Review by: Griffin (like the monster)
Hi y'all, here we go again! More wonderful graphic novels to stimulate the imagination and increase critical thinking with a wonderfully emotionally complex and fictionally complete choice: Amelia Erroway: Castaway Commander!
Twelve-year-old Amelia burns to pilot the great ornithopters of the city of Ables, but her father, Commander Erroway, once a magnificent and adventurous pilot, has turned away from happiness in fear of losing his daughter after the disappearance of Amelia's mother. But you can't keep a bright child down, and soon, Amelia accidentally takes flight and is lost in a storm. Through wit, determination, and community, she manages to return and to deliver a lesson worth learning to her recalcitrant father.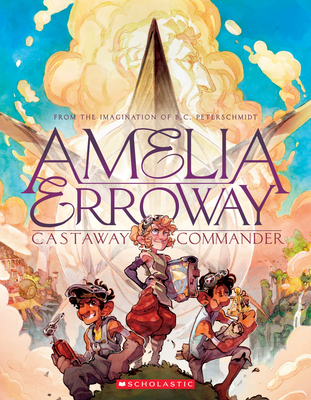 B. C. Peterschmidt's layered watercolors create a fantastic and fabulous environment filled with flying dragonesque Ayven, predatory Terra Vines, Knot houses in the wilderness, and hosts of flora and fauna to populate Amelia's world. The rich color, depth, and cartooning reinforce the firm intensity and layered conflict as Amelia recognizes first love, overcomes continuous multiple failures, and returns triumphant.

Like being wrapped in a blanket telling stories 'round a fire, Amelia Erroway: Castaway Commander will swaddle your spirit like a firm hug from your favorite aunt or uncle.