Hello all! BookPeople has officially kicked off its season of giving! If you've stopped by the store in the past month you've probably seen our brand new 2018 catalogue! The catalogue is full of our favorite books, gift items, and this year, charities! To further celebrate those charities we will be posting spotlights throughout the month! Each
weekday for the next few weeks, we'll be hosting "give-back" days in the store for a different organization. Mention that day's organization's give-back promotion, and 20% of your purchase will be donated to them. Check out our calendar or visit this page to find out more.
Our spotlight for December 17th is Latinitas! Latinitas is a non-profit that works to empower Latina youth through technology. Founded in 2010, Latinitas provides digital media, technology training and esteem-boosting services to nearly 3,000 girls and teens across Texas annually.
Latinitas works with girls between 9 and 14 from various elementary and middle schools throughout the city. Their mission is to empower girls, provide creative outlets to express themselves, and provide a place to learn about their culture and discover their voice.
Kid's Assistant Inventory Manager Natasha chose to go with her favorite book of the year Elizabeth Acevedo's Poet X. Natasha calls Poet X  "a beautifully written book about a young Afro-Latinx woman in Harlem finding her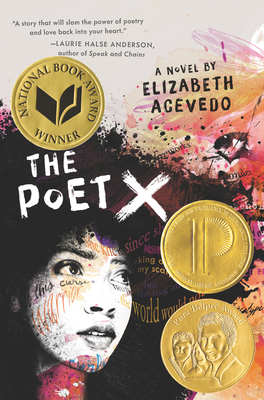 voice through poetry."
Stop by BookPeople on December 17th to check out Poet X and to do some holiday shopping! When you get to the register, mention this blog post and 20% of your purchase will be donated to Latinitas! Keep an eye out for more Season of Giving spotlights to come!
For more information visit: http://latinitasmagazine.org