This week, a member of BookPeople's Teen Press Corps is joining us on the blog to share her thoughts on Anxious People by Fredrik Backman. Read Delia Rune's review below and check out more of her recommendations on the TPC blog!
---
When I picked up Anxious People at the Austin-Bergstrom International airport, I was just looking for a decent read to get me through a long plane ride to Sweden. Little did I know I was about to read one of my new favorite books; I give it five stars for its deeply complex characters, unique writing style, and honest depiction of what it means to be human.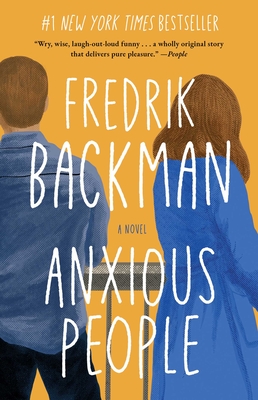 On the surface, Anxious People is about a bank robbery. But it only takes a few chapters to understand that the bank robbery and following hostage-crisis are far less interesting than the bank robber and hostages themselves. Crazy circumstances and a confounding mystery are what draw you into Anxious People, but the characters are what convince you to keep reading.
Why is there a half-naked man wearing only a rabbit's head locked in the bathroom? Why did the bank robber request fireworks instead of ransom? Where is the bank robber now, and why did they leave behind a gallon of fake blood and a children's drawing? These are the sorts of funny and page-turning questions that Anxious People introduces and, eventually, answers.
Backman has a gift for teasing his readers: he'll reveal a small tidbit of information or piece of the story, only to abruptly abandon it a few sentences later, leaving the reader to wonder about it for at least a few chapters. He manages to do this without being annoying or too obvious, which only adds to the page-turning nature of his books.
Personally, I found Anxious People to be very accurate, not only as a study of humans but also as a study of Swedes. Being half-Swedish myself, I spend a lot of time in the country and know the people and the language of Sweden well. Since Backman is also Swedish, he is able to create a small peephole into Swedish society through his very-typically Swedish references to "Stockholmers," Swedish reality TV shows, and liver paté (a common Swedish food). For anyone looking to better understand another culture, Anxious People is a great read.
"… the best part of reading Anxious People was putting it down and feeling as though I had just shared a deeply personal conversation with a friend."
Anxious People also has a very informal tone and often breaks the fourth wall– almost as if the author is speaking directly to the reader. This makes sense given the book's themes of authenticity and shared humanity. And not only does it make sense, but it also makes the book a much more satisfying and emotional read. All of these things made Anxious People entertaining and touching to read. Much like life, the novel includes a variety of light-hearted and heavier themes and leaves you with a mix of emotions. For me, the best part of reading Anxious People was putting it down and feeling as though I had just shared a deeply personal conversation with a friend. Although it is an adult novel, I would recommend this book to teens as well. However, a quick content warning: there are several references to and discussions of suicide in this book, so, if that is upsetting to you, Anxious People may not be the right fit. Otherwise, I highly recommend Anxious People to anyone!
—Delia R.