Join Griffin (like the monster) for some great graphic novel recommendations!
---
These are all three appropriate for all ages and this time around each tells the tale of a quest! Your readers like adventure, hard or soft, well, I have read something they will like! 
THE SUNKEN TOWER by Tait Howard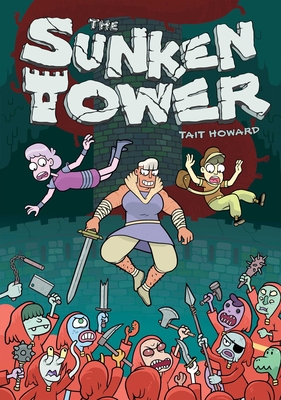 I know this publisher, Oni Press, from the comics end and its association with Kevin Smith. They have discovered a new market and they know how to find work they like for a kid audience. Like Jeff Smith's BONE, Tait Howard creates grand and high stakes adventure filled with menacing tasks and hideous monsters tempered by a controlled level of cartooning that makes every page a delight.
Poor young wizard, Dig! His day begins with a broken bag strap and ends kidnapped by cultists and dragged to their dungeon deep in a subterranean warren. Imprisoned there, he meets a pair of women warriors, and the three escape their cells and begin the difficult trek through cultists, creatures, and, at the moment of escape, a boss monster. A really cool Boss Monster. I love it!
FUN FUN FUN WORLD by Yehudi Mercado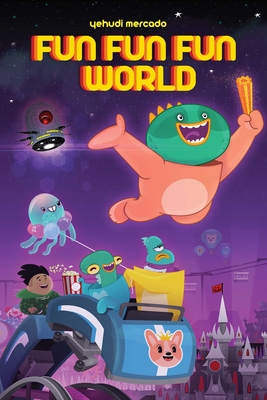 Where traditional linework makes THE SUNKEN TOWER read like a simplified Conan tale, FUN FUN FUN WORLD is almost a cartoon in itself. Gone are the black lines of traditional comics; here self-color lines, full bleed pages, and complex story make for an uproarious comedic adventure.
Mercado weaves together several threads: Minky, captain of the Devastorm 5, is desperate for an successful alien invasion and earth is his target; Minky's queen demands conquest and tribute as well; clever Javi wants to explore and revive the FUN FUN FUN WORLD amusement park; Javi's uncle has a plan to power the park with a new invention. Luckily, everyone loves churros! It's like Saturday morning cartoons and sugary cereal! Delicious fun! 
GARLIC & THE VAMPIRE by Bree Paulsen (coming 9/28)
Bucolic life suits Garlic to her roots; gardening with friends, Carrot and Witch Agnes, and her community of living vegetable gardeners. But smoke in the vampires castle means he has returned and timid, shy, introvert, Garlic is the obvious choice to confront him.
She ain't so sure.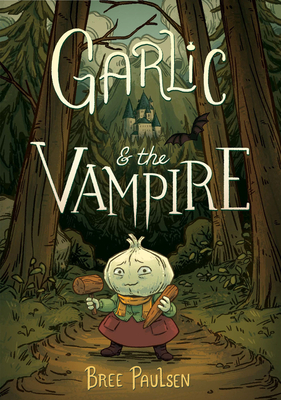 What could be more high stakes than a vampire hunt? And yet, Paulsen has created a world of plushy soft violence and reformative monsters with artwork that's like holding a warm chick in your hands. Bullies get comeuppance, a hero arises, and an unexpected resolution grows and strengthens the community. Garlic, the humble hero rises to the challenge and wins an unexpected treasure!