By Taffy Brodesser-Akner:
Dr. Toby Fleishman wakes up each morning surrounded by women. Women who are self-actualized and independent and know what they want—and, against all odds, what they want is Toby. Who knew what kind of life awaited him once he finally extracted himself from his nightmare of a marriage? Who knew that there were women out there who would actually look at him with softness and desire? But just as the winds of his optimism are beginning to pick up, they're quickly dampened, and then extinguished, when his ex-wife, Rachel, suddenly disappears. A searing anatomy of marriage, divorce and the bewildering dynamics of gender, power and sanity. Fleishman Is In Trouble is a darkly comic, finely observed and timely debut from one of the most exciting writers working today.
By Denise Mina:
Conviction introduces us to Anna McDonald, though that is not her real name. Living as a trophy wife with children, she turns to true crime podcasts for her daily escape. Soon her life will become one. Scott has chosen Conviction as our MysteryPeople pick of the month. He says "Conviction is not only proof of Denise Mina's talent, but of her range. It's her David Bowie's Let's Dance, a possibly more accessible piece that will hopefully draw a larger audience that doesn't compromise her artistry and themes. She provides the quintessential summer read with a forward momentum driven by it's broken and bickering leads. I hope she can come up with another case for these two to crack."
By Jo Baker:
When a young writer accepts a job at a university in the remote English countryside, it's meant to be a fresh start, away from the bustle of London and the scene of a violent assault she is desperate to forget. But despite the distractions of her new life and the demands of single motherhood, her nerves continue to jangle. To make matters worse, a vicious debate about violence against women inflames the tensions and mounting rivalries in her creative-writing class. When a troubled student starts turning in chapters that blur the lines between fiction and reality, the professor recognizes herself as the main character in his book—and he has written her a horrific fate. Allie says "Jo Baker is a genius. This book is indeed quite chilling and contains descriptions so realistic you would think Baker herself had experienced everything in the book."
By Regina Porter:
The Travelers is a sweeping and devastating debut novel following two American families, one white and one black, from the 1950s through Barack Obama's first year as president, and grappling with America's painful history of racism and sexism. THE TRAVELERS is both an intimate family portrait and a searing examination of the hauntings and traumas still reverberating in America today and the wounds in our history we have not healed. It does this with with the empathy and imagination of fiction.
By Reed King:
"Truckee Wallace has never left the confines of Crunch 407, an especially crappy part of Crunch United. He was born here, he works for Crunch United pressing a button every day thousands of times. He has three and a half friends (it's complicated), and as far as things go, Truckee is content. That is until his life is completely upturned when a figure from his past, a goat, and some chemicals come together to show him that its a damned big world out past Crunch 407 and, inexplicably, he is the one to help save it! Mixing the feeling of Hitchhiker's Guide to the Galaxy with the prose of John Dies at the End with a nice dash of Ready Player One, FKA USA is a wonderful example of modern science fiction that is an absolute blast to read."–Will B.
By Christina Henry:
Red doesn't like to think of herself as a killer, but she isn't about to let herself get eaten up just because she is a woman alone in the woods….  

By Celeste O. Norfleet:
Set in the summer of '68, a road trip return to college for three young African American women turns desperate in the grip of violent history.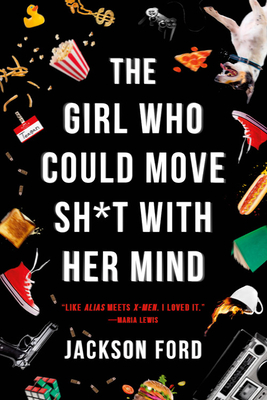 The Girl Who Could Move Sh*t with Her Mind
By Jackson Ford:
Teagan works for the government pulling off break-ins inhumanly possible–but then a body turns up and she's the prime suspect with 24 hours to clear her name.