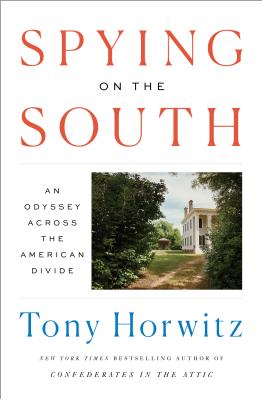 The literary community lost one of its great voices early last week with the passing of Pulitzer Prize-winner Tony Horwitz. We were fortunate to recently have Horwitz in the store for an event with his newest book, Spying on the South. 
Set in the 1850s, it tells the story of the young Frederick Law Olmsted, a restless farmer and dreamer in search of a mission. He found it during an extraordinary journey, as an undercover correspondent in the South for the up-and-coming New York Times. 
Tony Horwitz rediscovers Olmsted (amidst the discord and polarization of our own time. Is America still one country? In search of answers, and his own adventures, Horwitz follows Olmsted's tracks and often his mode of transport (including muleback): through Appalachia, down the Mississippi River, into bayou Louisiana, and across Texas to the contested Mexican borderland. Venturing far off beaten paths, Horwitz uncovers bracing vestiges and strange new mutations of the Cotton Kingdom. Horwitz's intrepid and often hilarious journey through an outsized American landscape is a masterpiece in the tradition of Great Plains, Bad Land, and the author's own classic, Confederates in the Attic.
Tony Horwitz was a native of Washington, D.C., and a graduate of Brown University and Columbia University's Graduate School of Journalism. As a foreign correspondent, he covered wars and conflict in the Middle East, Africa, and Eastern Europe, mainly for the Wall Street Journal. Returning to the U.S., he won a Pulitzer Prize for national reporting and wrote for the New Yorker. He has also been a fellow at the Radcliffe Institute for Advanced Study and president of the Society of American Historians. Tony's books include the national bestsellers Confederates in the Attic, Blue Latitudes, Baghdad Without a Map and A Voyage Long and Strange.
Listen to Horwitz's event on Soundcloud and other podcast platforms. And come grab a copy of the book, on our shelves now.