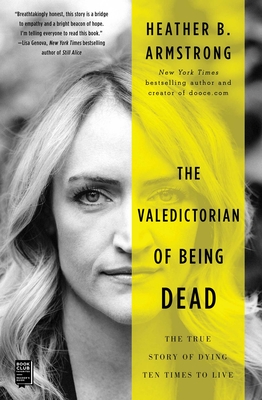 Heather B. Armstrong is widely acknowledged to be the most popular "mommy blogger" in the world. Her website, dooce®, has twice been listed as one of the 25 best blogs in the world by Time magazine and Forbes listed it as a top 100 website for women. In the eighteen years that Heather has been shaping the internet writing community, she's worked to create targeted content not only for fellow parents but also for numerous global brands—including Ford, Nintendo, and Clorox—and written a New York Times bestseller, It Sucked and Then I Cried.
Heather visited the store with her new, moving memoir, The Valedictorian of Being Dead. Here she recalls the torturous eighteen months of suicidal depression she endured and the month-long experimental study in which doctors used propofol anesthesia to quiet all brain activity for a full fifteen minutes before bringing her back from a flatline. Ten times. The experience wasn't easy. Not for Heather or her family. But a switch was flipped, and Heather hasn't experienced a single moment of suicidal depression since.
Hear our event with Heather on Soundcloud or most other podcast sites. And don't forget to stop by the store for a signed copy while we have some!