By Eric Silverstein:
Chef Eric Silverstein was born in Tokyo, but when his family moved to the US, he became immersed in Southern and Southwestern cooking–his original food truck and now his restaurant, The Peached Tortilla is a fusion of all the foods he loves. Dishes like the Banh Mi Taco, or the Bacon Jam Fries, favorites at his restuarant, pack the pages of this gorgeously designed cookbook. This is Asian fusion at its best, delivering soul-satisfying comfort food with a kick! Bonus, the book and recipes are ever so Instagram-worthy… We are beyond thrilled that Chef Eric is having the launch party for his cookbook here at BookPeople! Join us TONIGHT at 7PM for an incredible evening with the Chef, who will be signing his cookbook THE PEACHED TORTILLA!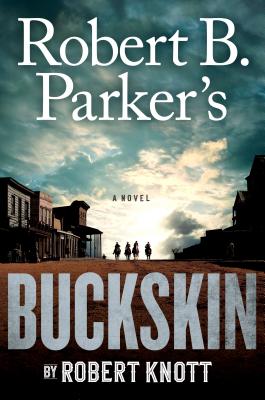 Robert B. Parker's Buckskin
By Robert Knott:
MysteryPeople expert Scott listed Robert Knott's latest continuation of Robert B Parker's series BUCKSKIN as one of his top picks for May and if you love crime fiction, you probably will too! Appaloosa lawmen Hitch and Cole have to contend with a war between two mines and their hired guns, a mysterious killer in town, and one riding into town, all with a blizzard blowing in. Neither of the women in their lives make it any easier either. Knott brings a little more detective work to this latest entry to the series as well the swift action and laconic banter delivered by it's two heroes that make it one of the best." Robert Knott will be here TOMORROW, May 8th at 7pm to speak about and sign his new book, join us in celebrating this incredible mystery author!
By Laird Barron:
Laird Barron returns to BookPeople on May 9th at 7pm for the second Isaiah Coleridge novel, what MysteryPeople's Scott calls "…one of the strongest hard boileds out there with a touch of the serial killer and horror tale as well." In this followup to BLOOD STANDARD, ex-mob enforcer Isaiah Coleridge has turned private eye, but when his old bosses come around asking him to look into the deaths of some of their men, the search for a brutal killer leads to government coverups and secret research facilities. Another one of Scott's top picks for May, read it! You won't regret it!
By Rachel Kushner:
Rachel Kushner's THE MARS ROOM swept everyone away with her portayal of a woman coming of age in San Francisco in the 90s. A gritty and intimate portayal of a city in between tech booms, THE MARS ROOM entangles you in a life gone off the rails. We're thrilled to be hosting two-time National Book Award nominated author at Austin's Central Library in conversation with one of our favorite local authors Deb Olin Unferth! Join us at Austin Central Library, May 9th at 7PM–purchasing the book from BookPeople will grant you priority access to the signing line!
By  Kristine Lilly, Dr John Gillis Jr and Dr Lynette Gillis:
Legendary althlete Kristine Lilly, midfielder for the US Women's National Soccer team for over 23 years, teams up with Dr. John Gillis Jr to help readers and their businesses transform, empower, achieve, and motivate their teams to revolutionize their organizations and achieve peerless, sustainable success. Dr. Gillis will be here May 10th at 7PM to speak about and sign copies of their guide to success, don't miss this dynamic and empowering event!
By Carmen Oliver:
We're thrilled to welcome kid lit authors Carmen Oliver to BookPeople on May 11th at 2PM in celebration of her new nonfiction picture book, A Voice for the Spirit Bears. A Voice for the Spirit Bears is the story of Simon Jackson, founder of The Spirit Bears Coalition, organized to protect a rare subspecies of black bear who were losing their home to deforestation. Joining Carmen is Debbie Gonzales with Girls with Guts, about Title IX, and how, before it was passed in 1972, girls weren't "allowed" to be athletic, and how they did it anyway! A celebration of the strength, endurance, and athleticism of women and girls throughout the ages, and the law they pushed for that finally allowed them to compete as athletes! Girls with Guts comes out May 14th, but we'll have copies available for purchase at their event. Come learn about real life stories of change makers and record breakers through these authors' beautiful storytelling!
By Chris Pavone:
From the bestselling author of THE EXPATS, Chris Pavone, comes another pulse-pounding thriller featuring Kate Moore! Life in Paris has been lovely and the last thing Kate expects when she drops her kids off at school is to find out that a suicide bomber is outside the Louvre. With no orders from Langley, Moore partners with a French agent, racing the clock to discover who exactly is orchestrating this deadly plot that could change the face of Paris forever. We're hosting Chris Pavone May 14th at 7pm and we're sure it's going to be a positively thrilling evening–join us in celebrating this bestselling author!
By Lara Prior-Palmer
We've been counting down the days to celebrate pub day for this incredible debut adventure memoir by Lara Prior-Palmer, the youngest (and only female) winner of the world's longest and toughest horse race, the Mongol Derby. A favorite of our booksellers, ROUGH MAGIC describes an incredible, life-changing event that Prior-Palmer threw herself into shortly after graduating highschool, and everything it took to keep going in the face of ridiculous odds. Uriel says "Rough Magic is a life-affirming read that brims with a boundless sense of wonder. Here, Lara Prior-Palmer recounts her week-long trek across the punishing Mongolian steppe riding the 'world's longest and toughest horse race.' This is an adventure story just as much as its a journey of self-discovery; a candid, and often humorous, musing on nature, memory and the inescapable desire to be free. This ride feels true and gallops away with your heart." We've selected this book for our next Trustfall subscription box (which would make a fantastic gift for graduates, folks!), and we're absolutely thrilled to be hosting an event with Lara on May 15th at 7PM. Join us!
By Eric Gorges:
In this joyful celebration of skilled craftsmen, Eric Gorges, a corporate-refugee-turned-metal-shaper, taps into a growing hunger to get back to what's real. We're surrounded by the digital, the virtually corporeal–in A CRAFTSMAN'S LEGACY, Eric Gorges highlights the satisfaction and contentment that comes from working with your hands. Creator of the Craftsman's Legacy television program and owner/operator of Voodoo Choppers, a custom motorcycle shop in Detroit, we're so excited to hear Gorges speak May 16th at 7PM about his experiences as a maker!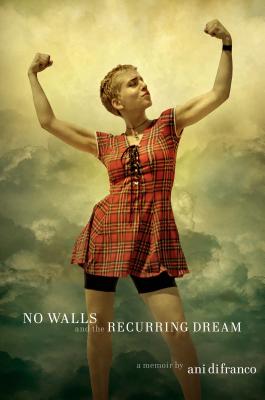 No Walls and the Recurring Dream
By Ani DiFranco:
This beautiful new memoir by Ani DiFranco is finally out! Recounting her early life, NO WALLS AND THE RECURRING DREAM is the tale of one woman's eventful and radical journey to the age of 30. Combining personal expression, the power of music, feminism, political activism, storytelling, philanthropy, entrepreneurship, DiFranco approaches her years from a place of hard-won wisdom, and inspires all of us to follow our dreams. Our event with Ani DiFranco at Central Presbyterian Church is completely sold out, but you can still read Ani's story now!
By Lorene Cary:
From cherished memories of weekends she spent as a child with her indulgent Nana to the reality of the year she spent "ladysitting" her now frail grandmother, Lorene Cary journeys through stories of their time together and five generations of their African American family. In Ladysitting, Cary captures the ruptures, love, and, perhaps, forgiveness that can occur in a family as she bears witness to her grandmother's 101 vibrant years of life. Join us on May 31st at 7PM as Lorene Cay shares her memoir with us!
By S. Craig Watkins:
Happy pub day to Austin author and media scholar S. Craig Watkins! We're so excited that his new book DON'T KNOCK THE HUSTLE is here on our shelves! A breakdown of what millenials face in the job market, as well as the incredible and innovative ways this generation is building a creative, entrepreneurial, and civically engaged innovation economy, his new book sits at the intersection of ethnography, sociology, social history and pop culture. Enlightening and inspiring, we're so excited that Watkins will be here to talk about his research and findings June 1st at 5PM! Join us!
By Sarah Blake:
From the author of THE POSTMISTRESS comes what is being called the next great American novel. Centered on a love affair between the daughter of a great American family and an upstart trying to break into polite society, THE GUEST BOOK is a literary triumph examining a privileged America. Looking back to 1935, and one of those families that "runs the world", Blake weaves the American past with its present and looks at the racism and power that has been systemically embedded in the US for generations.
By Casey Cep:
A bookseller favorite, Casey Cep's new book FURIOUS HOURS has all of us buzzing. The true story of a murder Harper Lee was attempting to profile like her friend Truman Capote had done with IN COLD BLOOD, FURIOUS HOURS unravels the tangled web around the story that so fascinated Lee. It's our Top Shelf pick of the month because it comes recommended by three BookPeople readers. Elizabeth (BookPeople's CEO) says "I was totally engrossed in the story of Reverend Willie Maxwell and Harper Lee's futile attempts to make his story her follow-up to To Kill a Mockingbird. Casey Cep is a masterful storyteller who can even keep the reader riveted through an entire chapter on the history of life insurance. Furious Hours is perfect for fans of Midnight in the Garden of Good and Evil and (dare I say it?) In Cold Blood." Part-time bookseller Will B highly recommends the book and says, "Furious Hours has everything I look for in a true crime novel, as well as some things I didn't know I wanted! Contained in this book are voodoo reverends, vigilantes, country lawyers, and of course, Harper Lee herself." While bookseller Christine shares her favorite line "Lee's writing voice catches like a briar; it doesn't tear its subjects, but sticks to them," and says herself "This is one of my favorite lines from Casey Cep's perceptive and fascinating exploration of Rev. Maxwell's story and Harper Lee's life, and how they intersect. I would say it applies as well to Furious Hours, which is what I spent reading this gem of literary nonfiction, unable to put it down…I will not be surprised to see this brilliant work on the National Book Awards list. If I could nominate it, I would."
By Common:
New from the award-winning musician, actor, and activist, Common comes a followup to his NYT bestselling memoir ONE DAY IT'LL ALL MAKE SENSE. With a strong, earnest voice, Common explores race and discrimination and cultural accountability and believes that love should be fostered in all aspects of our life, from family to community. Moving from the personal to the universal, Common explores the core tenets of love to help others understand what it means to receive and, most important, to give love. Beautiful and inspiring, don't miss LET LOVE HAVE THE LAST WORD by Common!
By Victoria Aveyard:
Victoria Aveyard returns a collection of 6 novellas set in the world of the Red Queen, 4 of which have never been previously published. A must-add piece to any fan's collection, this gorgeous collection further explores the world we've all come to adore and catched up with beloved characters. Plus BROKEN THRONE includes special bonus content, including gorgeous art, journal entries, world building, and so much more!
By Elizabeth Acevedo:
We couldn't be more excited that the new book from National Book Award winner Elizabeth Acevedo is finally out! As suspected, Acevedo's new novel is absolutely brilliant–a particular favorite of Eugenia's, who says WITH THE FIRE ON HIGH was "Such a joy to read! Brimming with flavor and comfort, this story centers around Emoni Santiago, a young Afro-Latina struggling to keep it all together—school, work, motherhood. Fortunately she has the support of her 'Buela and her best friend Angelica, plus she can always relieve some stress in the kitchen, where she feels most at home. National Book Award winner Elizabeth Acevedo brings us another beautifully crafted story about love, family, and the value of hard work and determination, with a main character that is—to put it simply—real. I hope young readers will be inspired to try out some of Emoni's recipes, which are sprinkled throughout its pages. I know I was!"
By Stephanie Garber:
The third and final installation in the Caraval series by Stephanie Garber is finally here! The stakes are higher than ever before as this glamorous and deadly story spins to a close that hangs on the choices the contestants must make. All games must end, but there are no longer any spectators…only only those who will win, and those who will lose everything. An ending worth waiting for, are you ready for FINALE?
By Joan Ramos
Jane, an immigrant from the Philippines, is in desperate search of a better future when she commits to being a Host at Golden Oaks, or the Farm as residents call it. But now pregnant, fragile, consumed with worry for her own family, Jane is determined to reconnect with her life outside. Yet she cannot leave the Farm or she will lose the life-changing fee she'll receive on delivery. Heartbreaking, gripping, provocative, The Farm pushes our thinking on motherhood, money, and merit to the extremes, and raises crucial questions about the trade-offs women will make to fortify their futures and the futures of those they love.
By Liv Constantine:
The internationally bestselling author of The Last Mrs. Parrish follows that success with an addictive novel filled with shocking twists about the aftermath of a brutal high-society murder. In this second novel, told with the lightning pace of The Last Mrs. Parrish, Liv Constantine raises the stakes, creating an exquisitely tension-filled and absorbing tale of psychological suspense in which innocent lives—and one woman's sanity—hang in the balance.
By Amie Kaufman & Jay Kristoff:
From the New York Times and internationally bestselling authors of the Illuminae Files comes a new science fiction epic. The year is 2380, and the graduating cadets of Aurora Academy are being assigned their first missions. Star pupil Tyler Jones is ready to recruit the squad of his dreams, but his own boneheaded heroism sees him stuck with the dregs nobody else in the academy would touch. Don't miss out in this exciting new series from the talented writing duo.
By David K. Randall:
A spine-chilling saga of virulent racism, human folly, and the ultimate triumph of scientific progress. For Chinese immigrant Wong Chut King, surviving in San Francisco meant a life in the shadows. His passing on March 6, 1900, would have been unremarkable if a city health officer hadn't noticed a swollen black lymph node on his groin—a sign of bubonic plague. Empowered by racist pseudoscience, officials rushed to quarantine Chinatown while doctors examined Wong's tissue for telltale bacteria. If the devastating disease was not contained, San Francisco would become the American epicenter of an outbreak that had already claimed ten million lives worldwide. In the tradition of Erik Larson and Steven Johnson, Randall spins a spellbinding account of the race to understand the disease and contain its spread—the only hope of saving San Francisco, and the nation, from a gruesome fate.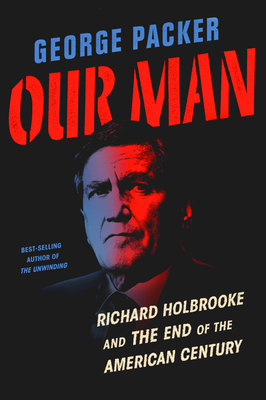 Our Man: Richard Holbrooke and the End of the American Century
By George Packer:
From the award-winning author of The Unwinding comes the vividly told saga of the ambition, idealism, and hubris of one of the most legendary and complicated figures in recent American history, set amid the rise and fall of U.S. power from Vietnam to Afghanistan. Richard Holbrooke was brilliant, utterly self-absorbed, and possessed of almost inhuman energy and appetites. Admired and detested, he was the force behind the Dayton Accords that ended the Balkan wars, America's greatest diplomatic achievement in the post-Cold War era. In Our Man, drawn from Holbrooke's diaries and papers, we are given a nonfiction narrative that is both intimate and epic in its revelatory portrait of this extraordinary and deeply flawed man and the elite spheres of society and government he inhabited.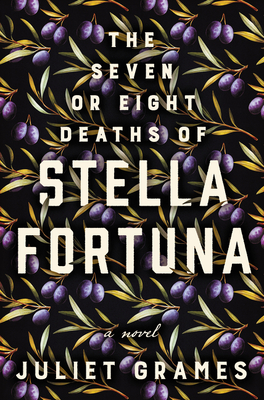 The Seven or Eight Deaths of Stella Fortuna
By Juliet Grames:
This Indie Next pick (books that indie bookstore love!!) is a breakthrough debut about an Italian immigrant family set across two continents and over 100 years–two sisters, estrangement, the silencing of women, secrets and the complex nature of love. We've got SIGNED COPIES!