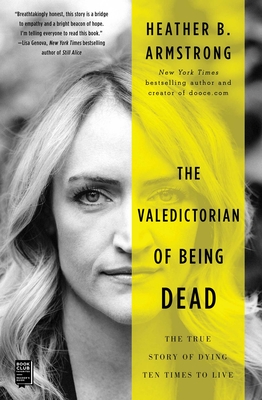 The Valedictorian of Being Dead
By Heather Armstrong:
An honest and irreverant memoir from one of the world's premier mommy bloggers, The Valedictorian of Being Dead dives into a disease that plagues many, and the experimental lengths which Heather Armstrong went through to combat depression. But when a depressive episode more severe than she'd ever previously experienced turned suicidal, for her sake, and the sake of her family Heather participated in an experimental treatment: 10 rounds of a chemically-induced coma approximating brain death. And, for her, it worked. Join us on Tuesday, April 30 at 7PM with Heather Armstrong as she discusses her fascinating memoir and speaks with us about her experience.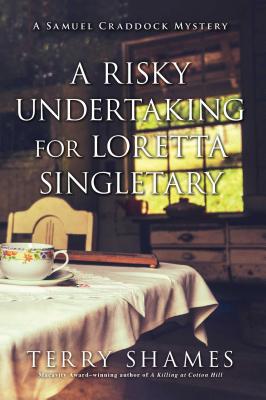 A Risky Undertaking for Loretta Singletary
By Terry Shames:
Chief Samuel Craddock's old friend Loretta Singletary—a mainstay of the Jarrett Creek community–has undergone a transformation, with a new hairstyle and modern clothes. He thinks nothing of it until she disappears. Only then does he find out she has been meeting men through an online dating site for small-town participants. When a woman in the neighboring town of Bobtail turns up dead after meeting someone through the same dating site, Craddock becomes alarmed. Will Craddock be able to find Loretta before she suffers the same fate? Finding out what happened to Loretta forces him to investigate an online world he is unfamiliar with, and one which brings more than a few surprises. Don't miss hearing Terry Shames speak and sign copies along with fellow mystery writer S.C. Perkins (Murder Once Removed) on Monday, June 3 at 7PM.
By cassy Joy Garcia:
From the creative force behind the popular food blog Fed + Fit, Cook Once, Eat All Week is a revolutionary way to get a delicious, healthy, and affordable dinner on the table FAST. Author Cassy Joy Garcia will walk you through this tried-and-true method and show you how batch-cooking a few basic components can give you an entire week's worth of dinners with minimal time and effort. This book is a must-have for anyone looking for a REAL solution to help them eat healthfully while also saving time and money and loving what they are eating. Join us to hear from Garcia Sunday, June 2 at 2PM speaking and signing books.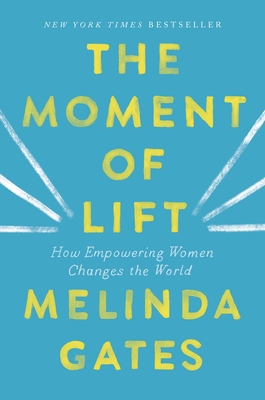 The Moment of Lift
By Melinda Gates:
For the last twenty years, Melinda Gates has been on a mission. Her goal, as co-chair of the Bill & Melinda Gates Foundations, has been to find solutions for people with the most urgent needs, wherever they live. Throughout this journey, one thing has become increasingly clear to her: If you want to lift a society up, invest in women. In this candid and inspiring book, Gates traces her awakening to the link between women's empowerment and the health of societies. She shows some of the tremendous opportunities that exist right now to "turbo-charge" change. And she provides simple and effective ways each one of us can make a difference. Don't miss this timely and necessary call to action for women's empowerment from Forbes' third most powerful woman in the world.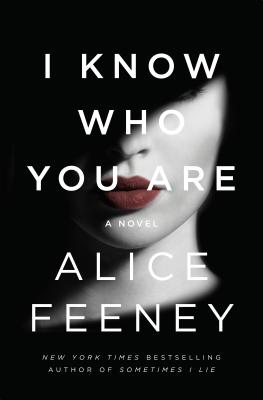 I Know Who You Are
By Alice Feeney:
I Know Who You Are is the brilliant tale of two stories. One is about Aimee Sinclair, a well-known actress on the verge of being full-on famous. If you saw her, you'd think you knew her. One day toward the end of her shoot on her latest film, Aimee comes home from filming to find her husband's cell phone and wallet on the dining room table. He never goes anywhere without them. But he's nowhere to be found. She's not too concerned—they had a huge fight the night before. They both said things they didn't mean. He might have done things he didn't mean, things she can't forget. Even though she has a history of supposedly forgetting. After all, she's a very good actress. The next morning she goes for her morning run and then goes to her favorite coffee shop. But her card is denied. When she calls the bank, they say her account has been emptied of $10,000. She immediately suspects her husband. But they say, no, it was Aimee herself who closed out the account. And thus begins a bizarre rabbit hole into which Aimee finds herself falling where nothing is at it seems. Come grab this thrilling new book on our shelves now.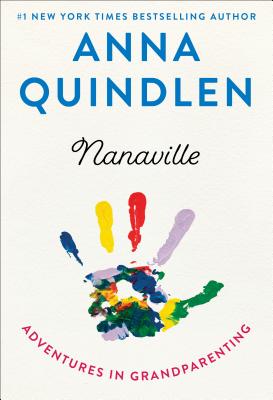 Nanaville
By Anna Quindlen:
Before mommy blogs were even invented, Anna Quindlen became a go-to writer on the joys and challenges of motherhood in her nationally syndicated column. Now she's taking the next step and going full Nana in the pages of this lively and moving book about her grandchildren, her children, and her new and remarkable role. Nanaville is a big-hearted book of wisdom, insight, and wit celebrating the joys of being a grandmother. A heartwarming read from the Pulitzer Prize-winning columnist and #1 New York Times bestselling author.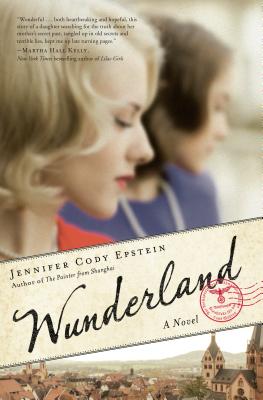 Wunderland
By Jennifer Cody Epstein:
It's 1989 in New York City and Ava Fischer is a mess: she's broke, her teenage daughter is barely speaking to her, and her estranged mother's ashes have just arrived from Germany by mail. In a trove of unsent letters that arrive with Ilse's ashes, written to Ilse's childhood best friend, Renate, Ava begins to find answers, sending her spiraling deep into the past of the mother she never truly knew. In 1933 Berlin, Renate and Ilse, meet at school and become inseparable friends. But as the Nazi party tightens its grip on the city, the two girls find their friendship torn apart by the Nuremberg Laws. As Ilse is increasingly drawn in by the Hitler Youth movement and its promise of a Germany restored to greatness, Renate is forced to confront a family secret long since buried, and leaving one friend catastrophically betrayed by the other, with reverberations that will be felt for generations to come. Wunderland is an intimate portrait of a friendship severed by history, and a sweeping saga of wartime, motherhood, and legacy by an award-winning novelist.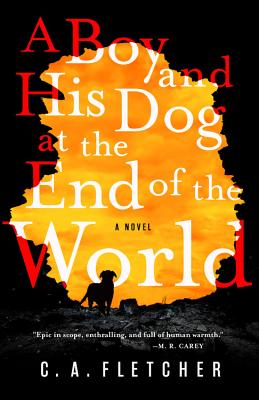 A Boy and His Dog at the End of the World
By C. A. Fletcher:
When a beloved family dog is stolen, her owner sets out on a life-changing journey through the ruins of our world to bring her back in this fiercely compelling tale of survival, courage, and hope. Griz's childhood wasn't like yours. He never had friends, and in his whole life has not met enough people to play a game of football. His parents told him how crowded the world used to be, but they were never lonely on their remote island. They had each other, and their dogs. Then the thief came. There may be no law left except what you make of it. But if you steal his dog, you can at least expect him to come after you. Because if we aren't loyal to the things we love, what's the point?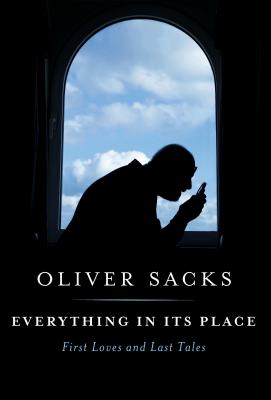 Everything in It's Place
By Oliver Sacks:
From the best-selling author of Gratitude and On the Move, a final volume of essays that showcase Sacks's broad range of interests—from his passion for ferns, swimming, and horsetails, to his final case histories exploring schizophrenia, dementia, and Alzheimer's. Oliver Sacks, scientist and storyteller, is beloved by readers for his neurological case histories and his fascination and familiarity with human behavior at its most unexpected and unfamiliar. Everything in Its Place is a celebration of Sacks's myriad interests, told with his characteristic compassion and erudition, and in his luminous prose. Don't miss out on this final volume by the late, beloved author.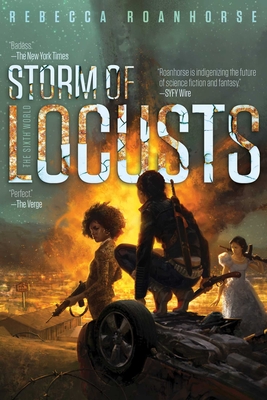 Storm of Locusts
By Rebecca Roanhorse:
Nebula award-winning author Rebecca Roanhorse brings a new and spectacular follow-up to Trail of Lightning. Kai and Caleb Goodacre have been kidnapped just as rumors of a cult sweeping across the reservation leads Maggie and Hastiin to investigate an outpost, and what they find there will challenge everything they've come to know. Maggie's search leads her beyond the Walls of Dinétah and straight into the horrors of the Big Water world outside. With the aid of a motley collection of allies, Maggie must battle body harvesters, newborn casino gods and, ultimately, the White Locust himself. But the cult leader is nothing like she suspected, and Kai might not need rescuing after all. When the full scope of the White Locust's plans are revealed, Maggie's burgeoning trust in her friends, and herself, will be pushed to the breaking point, and not everyone will survive. Do't miss all the excitement in this action-packed sequel.
By Kate Atkinson:
From the #1 New York Times bestselling author of Life after Life comes a dramatic story of WWII espionage, betrayal, and loyalty. In 1940, eighteen-year old Juliet Armstrong is reluctantly recruited into the world of espionage. Sent to an obscure department of MI5 tasked with monitoring the comings and goings of British Fascist sympathizers, she discovers the work to be by turns both tedious and terrifying. But after the war has ended, she presumes the events of those years have been relegated to the past forever. Ten years later, now a radio producer at the BBC, Juliet is unexpectedly confronted by figures from her past. A different war is being fought now, on a different battleground, but Juliet finds herself once more under threat. A bill of reckoning is due, and she finally begins to realize that there is no action without consequence. Our former marketing director, Abby, was a huge fan of Transcription and said "Kate Atkinson is brilliant and her writing is beautiful and I love her so much. In Transcription she's at her best." Don't miss this amazing novel now in papaperback.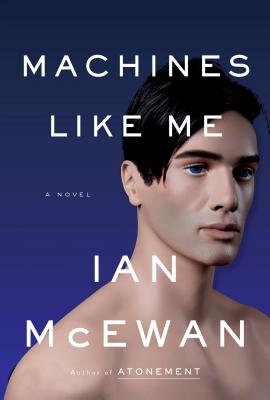 Machines Like Me
By Ian McEwan:
From the Booker Prize winner and international bestselling author of Atonement and The Children Act comes a timely novel about artificial intelligence and the rapid developments of new technology. Machines Like Me takes place in an alternative 1980s London. Charlie, drifting through life and dodging full-time employment, is in love with Miranda, a bright student who lives with a terrible secret. When Charlie comes into money, he buys Adam, one of the first synthetic humans and—with Miranda's help—he designs Adam's personality. The near-perfect human that emerges is beautiful, strong, and clever. It isn't long before a love triangle soon forms, and these three beings confront a profound moral dilemma.