By Robert Caro:
From the two-time Pulitzer Prize-winning author of The Power Broker and The Years of Lyndon Johnson: an unprecedented gathering of vivid, candid, deeply revealing recollections about his experiences researching and writing his acclaimed books. He describes what it was like to interview the mighty Robert Moses; what it felt like to begin discovering the extent of the political power Moses wielded; the combination of discouragement and exhilaration he felt confronting the vast holdings of the Lyndon B. Johnson Library in Austin, Texas; his encounters with witnesses, including longtime residents wrenchingly displaced by the construction of Moses' Cross-Bronx Expressway and Lady Bird Johnson acknowledging the beauty and influence of one of LBJ's mistresses. He gratefully remembers how, after years of working in solitude, he found a writers' community at the New York Public Library, and details the ways he goes about planning and composing his books. You won't want to miss hearing Caro's amazing stories Sunday, April 14 at 5PM. Come by and grab a copy to get signed.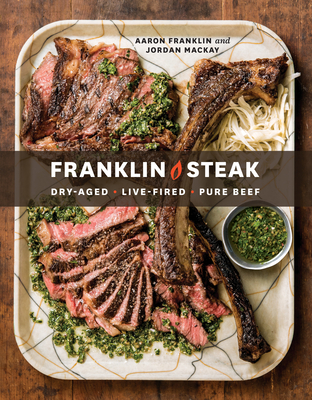 Franklin Steak
By Aaron Franklin:
Everyone recognizes Aaron Franklin as the King of barbecue—from the famously long lines to the delicious meats that constantly sell out. But 12-hour brisket isn't all he can do. Steak is a staple in his household, and in his follow-up to New York Times best-selling book Franklin Barbecue, the pit master extraordinaire teaches readers how to cook his favorite food to absolute perfection. Foodie Eugenia says "If you're thinking to yourself, 'How can anyone write a whole book about steak?' YOU NEED THIS BOOK! From background on beef genetics and proper environment to the best way to cook a particular cut, Franklin Steak offers a personal and wonderfully conversational look into the joys of cooking the perfect steak. The book also features some of Franklin's favorite spots from around the world and even an interview with Austin local butchers Ben Runkle and Bryan Butler, from one of MY personal faves in town, Salt & Time!" And Christine said "Aaron Franklin's new book, Franklin Steak, reminds me of why I will probably always be carni-flexible rather than a true vegetarian—I can live without chicken or pork, but steak? No way. Just the photographs provoke the visceral reaction Franklin describes in his first chapter, not to mention the expertise he shares in each chapter and the recipes. I can smell the smoke and the mouth-watering flavors of a ribeye on the grill. Franklin Steak isn't just a cookbook, it's an enticement, and it's culinary storytelling at it's best." Don't miss hearing the legendary pit master speak and sign copies of Franklin Steak on Friday, April 19 at 7PM. And you'll definitely want to arrive a little early for some extra fun.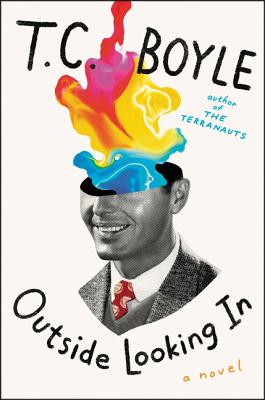 Outside Looking In
By T. C. Boyle:
Legendary master of the American Novel T.C. Boyle is back with a provocative new novel exploring the first scientific and recreational forays into LSD and its mind-altering possibilities. With his trademark humor and pathos, Boyle moves us through a couple's initiation at a party, to the husband's notorious summer seminars in Zihuatanejo until the their eventual expulsion from Harvard and their introduction to a communal arrangement of thirty devotees—students, wives, and children—living together in a sixty-four room mansion and devoting themselves to all kinds of experimentation and questioning. Funny, smart, and perceptive, Outside Looking In creates memorable characters as well as intricate and often hilarious story lines that you won't want to miss. Boyle will be at BookPeople Saturday, April 13 at 3PM speaking and signing copies. Don't miss out!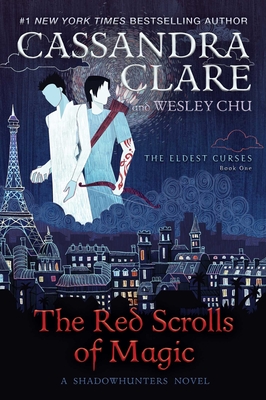 The Red Scrolls of Magic
By Cassandra Clare and Wesley Chu:
From #1 New York Times bestseller Cassandra Clare and award-winner Wesley Chu comes the first book in a new series that follows High Warlock Magnus Bane and Alec Lightwood as they tour the world after the Mortal War. All Magnus wanted was a vacation—a lavish trip across Europe with Alec, the Shadowhunter who against all odds is finally his boyfriend. But as soon as the pair settles in Paris, an old friend arrives with news about a demon-worshiping cult called the Crimson Hand that is bent on causing chaos around the world. A cult that was apparently founded by Magnus himself. Years ago. As a joke. Now Magnus and Alec must race across Europe to track down the Crimson Hand and its elusive new leader before the cult can cause any more damage. As if it wasn't bad enough that their romantic getaway has been sidetracked, demons are now dogging their every step, and it is becoming harder to tell friend from foe. As their quest for answers becomes increasingly dire, Magnus and Alec will have to trust each other more than ever—even if it means revealing the secrets they've both been keeping. Clare and Chu will be at Central Presbyterian Church to talk about their new collaboration TONIGHT at 7PM. We still have plenty of tickets left. Tickets are available via eventbrite or at the doors. Don't miss it!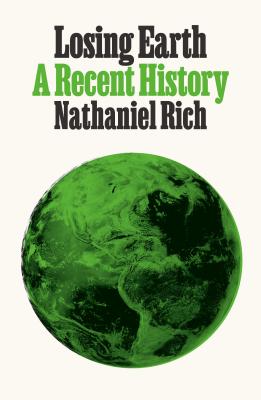 Losing Earth
By Nathaniel Rich:
By 1979, we knew nearly everything we understand today about climate change—including how to stop it. Over the next decade, a handful of scientists, politicians, and strategists, led by two unlikely heroes, risked their careers in a desperate, escalating campaign to convince the world to act before it was too late. Losing Earth is their story, and ours. The New York Times Magazine devoted an entire issue to Nathaniel Rich's groundbreaking chronicle of that decade, which became an instant journalistic phenomenon—the subject of news coverage, editorials, and conversations all over the world. In its emphasis on the lives of the people who grappled with the great existential threat of our age, it made vivid the moral dimensions of our shared plight. Now expanded into book form, Losing Earth tells the human story of climate change in even richer, more intimate terms. It reveals, in previously unreported detail, the birth of climate denialism and the genesis of the fossil fuel industry's coordinated effort to thwart climate policy through disinformation, propaganda, and political influence. The book carries the story into the present day, wrestling with the long shadow of our failures and asking crucial questions about how we make sense of our past, our future, and ourselves. Like John Hersey's Hiroshima and Jonathan Schell's The Fate of the Earth, Losing Earth is that rarest of achievements: a riveting work of dramatic history that articulates a moral framework for understanding how we got here, and how we must go forward. We're excited to host Nathaniel Rich in conversation with Eric Benson, a senior Editor at Texas Monthly. This event takes place Tuesday, April 16 at 7PM at the Texas Monthly building. Visit the event page for details and don't miss out on this important discussion!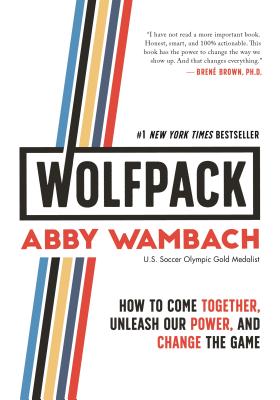 WOLFPACK
By Abby Wambach:
Based on her inspiring, viral 2018 commencement speech to Barnard College's graduates, Abby Wambach delivers her empowering rally cry for women to unleash their individual power, unite with their pack, and emerge victorious together. Abby Wambach became a champion because of her incredible talent as a soccer player. She became an icon because of her remarkable wisdom as a leader. As the co-captain of the 2015 Women's World Cup Champion Team, she created a culture not just of excellence, but of honor, commitment, resilience, and sisterhood. She helped transform a group of individual women into one of the most successful, powerful and united Wolfpacks of all time. In her retirement, Abby's ready to do the same for her new team: All Women Everywhere. In WOLFPACK, Abby's message to women is: We have never been Little Red Riding Hood. We Are the Wolves. We must wander off the path and blaze a new one: together.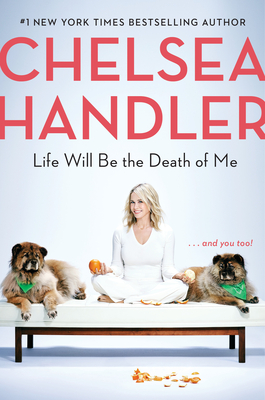 Life Will Be the Death of Me . . . and You Too
By Chelsea Handler:
The bestselling author of five consecutive #1 New York Times bestsellers tells the funny, sad, super-honest, all-true story of her year of self-discovery—featuring Robert Mueller, a nerdily brilliant psychiatrist, a shaman, four Chow Chows, some well-placed security cameras, various family members (living and departed), friends, assistants, and a lot of edibles. This is a thrillingly honest, insightful, and deeply, darkly funny memoir that is the perfect read for this moment in time.
By Martha Hall Kelly:
The runaway bestseller Lilac Girls introduced the real-life heroine Caroline Ferriday. This sweeping new novel, set a generation earlier and also inspired by true events, features Caroline's mother, Eliza, and follows three equally indomitable women from St. Petersburg to Paris under the shadow of World War I. It is 1914 and the world has been on the brink of war so many times, many New Yorkers treat the subject with only passing interest. Eliza Ferriday is thrilled to be traveling to St. Petersburg with Sofya Streshnayva, a cousin of the Romanovs. The two met years ago one summer in Paris and became close confidantes. Now Eliza embarks on the trip of a lifetime, home with Sofya to see the splendors of Russia. But when Austria declares war on Serbia and Russia's Imperial dynasty begins to fall, Eliza escapes back to America, while Sofya and her family flee to their country estate. In need of domestic help, they hire the local fortuneteller's daughter, Varinka, unknowingly bringing intense danger into their household. On the other side of the Atlantic, Eliza is doing her part to help the White Russian families find safety as they escape the revolution. But when Sofya's letters suddenly stop coming she fears the worst for her best friend.
By Nina George:
When Henri ends up in a coma after rescuing a young girl from the Thames, his ex-girlfriend, Eddie, discovers that she is listed as Henri's next-of-kin in his living will. While Henri lies in a hospital bed, he fitfully revisits the boyhood he spent with his beloved grandfather, who fed him a steady diet of Breton fish and fairy tales. Meanwhile, Sam, Henri's sensitive teenage son with whom Henri never had a relationship—Henri was in love with his mother, but too afraid of love to make the relationship work—has never seen his father alive, other than in Henri's reportages or the video of him heroically saving a girl from drowning. Yet, Sam has a more profound connection with his father than most children of his age. Sam and Eddie, each previously unaware of the other, slowly begin to carve out an unexpected and powerful friendship. But when Sam is on his way to meet his father for the first time, tragedy strikes. Full of rich, captivating characters, and in placing the serious questions of life and death alongside a wonderful and engrossing story, The Book of Dreams asks with grace and gravitas what we will truly find meaningful in our lives after we are gone. Don't miss this newest book by the author of the blockbuster bestsellers The Little Paris Bookshop and The Little French Bistro, about the spaces between lives and realities and loves both lost and coming home.
By Sonia Purnell:
A Woman of No Importance is the never-before-told story of Virginia Hall, the American spy who changed the course of World War II, from the author of Clementine. In 1942, the Gestapo sent out an urgent transmission: "She is the most dangerous of all Allied spies. We must find and destroy her." The target in their sights was Virginia Hall, a Baltimore socialite who talked her way into Special Operations Executive, the spy organization dubbed Winston Churchill's "Ministry of Ungentlemanly Warfare." She became the first Allied woman deployed behind enemy lines and—despite her prosthetic leg—helped to light the flame of the French Resistance, revolutionizing secret warfare as we know it. Based on new and extensive research, Sonia Purnell has for the first time uncovered the full secret life of Virginia Hall—an astounding and inspiring story of heroism, spycraft, resistance, and personal triumph over shocking adversity. A Woman of No Importance is the breathtaking story of how one woman's fierce persistence helped win the war.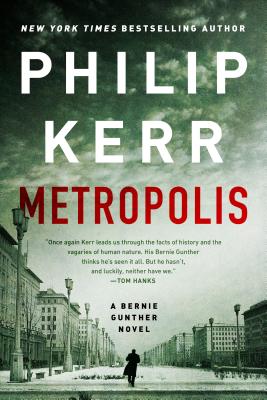 Metropolis
By Philip Kerr:
Metropolis, completed just before Philip Kerr's untimely death, is the capstone of a fourteen-book journey through the life of Kerr's signature character, Bernhard Genther, a sardonic and wisecracking homicide detective caught up in an increasingly Nazified Berlin police department. In many ways, it is Bernie's origin story and, as Kerr's last novel, it is also, alas, his end. It is also a tour of a city in chaos: of its seedy sideshows and sex clubs, of the underground gangs that run its rackets, and its bewildered citizens—the lost, the homeless, the abandoned. It is Berlin as it edges toward the new world order that Hitler will soon usher in. And Bernie? He's a quick study and he's learning a lot. Including, to his chagrin, that when push comes to shove, he isn't much better than the gangsters in doing whatever he must to get what he wants.
By Susan Choi:
Trust Exercise is Pulitzer finalist Susan Choi's multi-part, narrative-upending new novel. Molly says "A psychological masterclass. I can think of no better place to dissect how micro actions towards each other suggest macro feelings and truths than a famous arts high school where emotions, power dynamics, and naivete mascarading as bravado are at their peak and ever shifting. Many have said and I will too that you have to read this one knowing as little as possible about what to expect. All I'll say is that it left me with a potent emotion spurred by a slowly revealed truth, not just about the characters but about our world, and Susan Choi is a genius."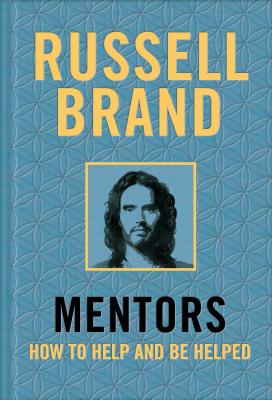 Mentors
By Russell Brand:
Could happiness lie in helping others and being open to accepting help yourself? Mentors—the follow up to Sunday Times number one bestseller, Recovery—describes the benefits of seeking and offering help. It describes the impact that a series of significant people have had on the Russell Brand—from the wayward youths he tried to emulate growing up in Essex, through the first ex-junkie stage, to the people he turns to today to help him be a better father. It explores how we all—consciously and unconsciously—choose guides, mentors and heroes throughout our lives and examines the new perspectives they can bring.
By Maria Gainza, Thomas Bunstead (Translated by):
The narrator of Optic Nerve is an Argentinian woman whose obsession is art. The story of her life is the story of the paintings, and painters, who matter to her. Her intimate, digressive voice guides us through a gallery of moments that have touched her. In these pages, El Greco visits the Sistine Chapel and is appalled by Michelangelo's bodies. The mystery of Rothko's refusal to finish murals for the Seagram Building in New York is blended with the story of a hospital in which a prostitute walks the halls while the narrator's husband receives chemotherapy. Alfred de Dreux visits Géricault's workshop; Gustave Courbet's devilish seascapes incite viewers "to have sex, or to eat an apple"; Picasso organizes a cruel banquet in Rousseau's honor . . . All of these fascinating episodes in art history interact with the narrator's life in Buenos Aires—her family and work; her loves and losses; her infatuations and disappointments. The effect is of a character refracted by environment, composed by the canvases she studies. Seductive and capricious, Optic Nerve marks the English-language debut of a major Argentinian writer. It is a book that captures, like no other, the mysterious connections between a work of art and the person who perceives it. Tomoko just started and is already enchanted…"the way that art is described makes you feel like you're seeing it again for the first time, it's incredible. I'm loving the writing in this gorgeous debut fiction from María Gainza and can't wait to read more!"
By Esi Edugyan:
The Man Booker Prize-longlisted novel about a boy who rises from slavery to become a free man of the world, from the award-winning author of Half-Blood Blues, is now in paperback! An eleven-year-old field slave on a Barbados sugar plantation, George Washington Black, or "Wash," is terrified to be chosen as the manservant to his master's brother. But to his surprise, the eccentric Christopher Wilde turns out to be a naturalist, explorer, inventor, and abolitionist. Soon Wash is initiated into a world where a flying machine can carry a man across the sky, where even a boy born in chains may embrace a life of dignity and meaning, and where two people, separated by an impossible divide, can begin to see each other as human. But when a man is killed and a bounty is placed on Wash's head, they must abandon everything and flee together. Over the course of their travels, what brings Wash and Christopher together will tear them apart, propelling the former even farther across the globe in search of his true self. Spanning the cane fields of the Caribbean to the frozen Far North, London to Morocco, Washington Black tells a story of self-invention and betrayal, of love and redemption, and of a world destroyed and made whole again.
By Terese Marie Mailhot:
Another popular book is now in paperback—a New York Times Bestseller, selected by Emma Watson as the Our Shared Shelf Book Club Pick for March/April 2018, a New York Times Editor's Choice, and a Barnes & Noble Discover Great New Writers Selection. Heart Berries is a powerful, poetic memoir of a woman's coming of age on the Seabird Island Band in the Pacific Northwest. Having survived a profoundly dysfunctional upbringing only to find herself hospitalized and facing a dual diagnosis of post traumatic stress disorder and bipolar II disorder; Terese Marie Mailhot is given a notebook and begins to write her way out of trauma. Consuelo says "Sometimes a writer seems to be peering into your life and peaking into your soul, instead of the other way around. And while she lays herself bare on the page, Mailhot also stripped away my own pretense of holding it together. As I turned each page, I felt just as lost as she. She writes of love and pain, and how love can be painful. While these themes don't make for an easy read, her words have an urgency and necessity that will connect readers to their own humanity."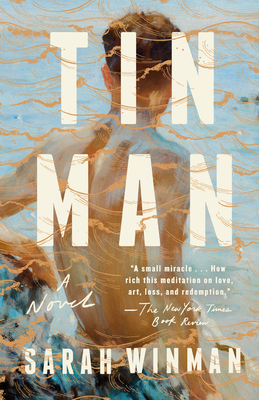 Tin Man
By Sarah Winman:
Now in paperback, Tin Man is an unforgettable and heartbreaking novel celebrating love in all its forms, and the little moments that make up the life of one man. Ellis and Michael are twelve-year-old boys when they first become friends, and for a long time it is just the two of them, cycling the streets of Oxford, teaching themselves how to swim, discovering poetry, and dodging the fists of overbearing fathers. And then one day this closest of friendships grows into something more. But then we fast-forward a decade or so, to find that Ellis is married to Annie, and Michael is nowhere in sight. Which leads to the question: What happened in the years between? With beautiful prose and characters that are so real they jump off the page, Tin Man is a love letter to human kindness and friendship, and to loss and living. Eugenia calls it "…beautiful beyond imagination." While Melissa said it was "Simple, but beautiful. It was incredibly easy getting swept up in this short novel about love, friendship, and a painting of sunflowers written in a grand example of prose."