Friday Black, by debut author Nana Kwame Adjei-Brenyah, creates a universe that mirrors humanity's darkest sins and despairing hopes. Adjei-Brenyah creates relatable and ordinary characters that are thrust into a hyperbolized structure of the world and his superlative writing easily breeds dark wonders that invoke raw reactions. I opened this book with no specific expectations and by the end of the first story I was completely committed to see what else was cooking in this author's darkly complex mind. Within Friday Black are twelve interconnected stories ready to blast fire onto the injustices that are part of American society. The magnified realities in each short story never lack in empathy for these young black characters.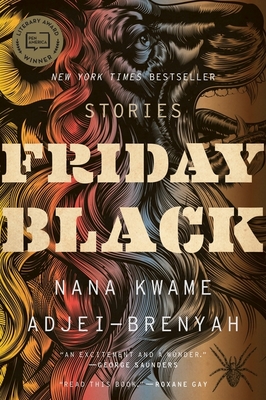 The first in this dystopian collection is "The Finkelstein 5," which shows where a culture's pain and rage can take them when justice does not come to the citizens. It left me with feelings impossible to shake: pain, fear, rage, and disappointment. The story takes place preceding a trial that has swept the nation; African Americans are left feeling even more divided from a country whose government has chosen to once again disappoint in delivering justice.  The protagonist is a young man dealing with the daily realities of being black in America: "That morning, like every morning, the first decision he made regarded his blackness. His skin was a deep and constant brown." With this introductory story, Adjei-Brenyah states his unapologetic promise of truth–the truth of his characters and their representation of African Americans and racial injustice as an entirety. Each of his stories brings a light to the indelible horrors of our judicial system, the brutality of black prejudice, and the unshakable raptures of consumerism.  
Adjei-Brenyah takes classically human issues and creates unique, witty, and mordantly expressive characters to expand the scale of their realities. The pain that they deal with is not circumscribed in the least, but meshed with situations that at times can be excessively brutal. These stories are not for the faint of heart, but absolutely worth the challenge. Often, his characters would have to make decisions challenging the limits of human morale.
The final short story "Through the Flash" left me wanting more of Adjei-Brenyah's surreal imagery, grotesque details, and haunting satirical perceptions. As a young Black woman, I feel connected not only to his artistic endeavors to speak for Black culture, but also his appreciation of the women's strength. Early on he gives thanks to his mother and gives recognition to her defiance to be all that she could for him. The women are well rounded and in need of acknowledgment just as much as the Black men.
Friday Black is hands down one of my favorite pieces of writing this year, and leaves me anticipating what more is to come from this author. These stories are for the present, but express caution for the future of American society. This explosive debut will have readers reaching out for more of Nana Kwame Adjei-Brenyah's iconic literary voice.
—Raven