Mat and Jason are the Book Cooks; two former kitchen commandos now working in a bookstore.
We suck at keeping up with this blog.  We can't promise we are going to be any better but here is one from us now. We rotate the books through our display on a regular basis and we had grand plans to do a full court press on the French Grand Masters. Guys like Bocuse, Robachon, Escoffier, Pepin. We ordered the books and were getting ready to change the whole display when something that just shattered our little worlds happened.
The coolest guy in the room killed himself. Anthony Bourdain committed suicide on June 8, 2018. So for the time being; the display is donated to Tony Bourdain and his written works.
After taking a couple of weeks to mull it over in our brains, try to make sense of it (can't be done) , changing the display and Marco Pierre White's message, we walked over to Holy Roller, our friend Callie Speer's splendid eatery, ate big plates of Caesar Fries and talked about the impact that Anthony Bourdain has and will continue to have on our lives.
M: I'm just trying to get out my thoughts here. There's so much that can and has been said. Honestly, it all feels a little too raw still.
J: Yeah, I still cannot get my head around it. Don't think I ever will.
M: I was drawn to food and cooking in a similar fashion as Bourdain was. I have always been an "other;" always been a little different; a man without a country so to speak. But that changed when I got in kitchens, because in kitchens nobody gives a f*** about you like that. Nobody cares if you're big or little or black or brown. Can you cook or not? Can you help us do this crazy s*** or not? Bourdain loved that, as well, it was his worldview, and its many of our worldviews to this day. That may sound idealistic. It is. Inevitably, things are more complicated than that, but I've yet to see a better philosophy on life than the essentialism at work in the hearts and minds of débrouillard cooks everywhere.
J: Basically the same for me. I started cooking because as a punk rock kid who would go out on tours for a couple of months at a time, I could always get a job in a kitchen somewhere when I got back. Nobody gives a f*** what you look like back in the kitchen. I even had a fanzine called Cooking Motherf*ckers that had recipes from folks in punk rock bands. John Bigley from the U-Men gave me one that is white fish cooked in mayonnaise, a shit ton of garlic, shallots, and lemon…it really should not have worked, but it actually was really good.
M: Yeah—that sounds disgusting but I can see it working. There is something about mayonnaise, it's inherently gross but when it works, it really works.
J: Where in life were you with the cook's bible came out?
M: Kitchen Confidential was released while I was still in culinary school, so it's not fair to say Tony was the reason I got into cooking, but he was a huge reason I stayed a cook for so long and that I was able to be as passionate about it as I was—in many ways, still am. He just had a clear and concise manner of getting across the importance and romance of food. It's true that food and cooking are a fulcrum for society and humanity. No one has ever illuminated that more than Tony. I think that's why his work resonates with cooks—he gave us a sense of our value in the world, he loved us and showed us that what we were doing could be noble, and also foolish—and why it resonates with the world at large. The premise was simple and undeniable—find a person, any person, sit down and eat with them, shut up, and be prepared to learn more than you can imagine.
J: I was long gone from the kitchen world by the time that book came out. The last place I cooked at was a place in Kansas City. I was the day time sous chef; really just a glorified line cook, but I helped set the salad guy up because he was an idiot. He was the son of a friend of the owners. He was on antabuse for his alcoholism. He said the drug made him really flushed and hot when he drank so he would go sit in the swimming pool so he could drink.
M: That shows some dedication to his calling.
J: Yeah, for sure. Anyway, it was a sort of fancy Italian place. Hand made pasta, fancy pizzas, yada yada yada….
M: Oh, that was the place where you said the Executive Chef threw a number 10 can of tomatoes at some guy, right?
J: I walked out. Told the chef that if he ever did that to me, the can was coming back at him with me behind it. Went to work in a bagel shop and then went to EMT school. You were way higher up in the kitchen world than I ever was. Did you ever get to meet Bourdain?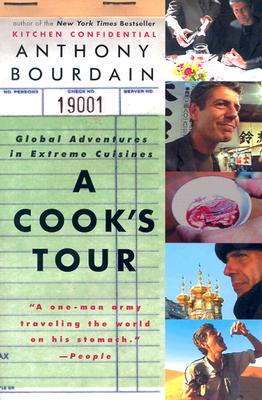 M: I never met him, but I feel like I've always known him. I cooked for him once when he was on the book promo for A Cook's Tour—a cabrito Bourguignonne in vol au vent that he called "naughty" and "restorative."
J: That is way fucking cool. I never got to meet him either. I went to a couple of his spoken word events and got to ask a question at the Q&A.
M: Which was?
J: What's your go to comfort food?
M: …and?
J: It is that dayglo orange mac and cheese…which is mine as well so I knew that Tony and I were kindred souls. Tell me more about the cabrito and will you make it for me?
M: It was relatively early on in my cooking career, my first sous chef job, but it's still one of my proudest moments. Many of my friends and peers have met him, cooked for him, hung out with him, drunk/drugged with him—uniformly the story was that he was exactly the guy you'd expect and that he was great. He never, ever took himself to be bigger than he was—just a cook with a story to tell. That's all he ever wanted for any of us, and that's what he gave us, elegantly, simply, absurdly, over and over. And he never let any of us get away with being a phony either, even if it meant walking back some of his own statements from time to time.
J: and?
M: Make it yourself…
J: Yeah, that's what I got from reading his books and watching his shows. He seemed completely fearless. I never want to meet my idols because I am always afraid that they will turn out to be giant dicks. But I was never concerned about that with Tony. An ex girlfriend of mine worked at BookPeople back when he did a couple of those shows and she got to hang out with him. I was so jealous, we broke up when I found that out.
M: You are so full of shit.
J:  Yeah, you her and Callie were the first people I texted when I found out about his suicide and true, that is not the reason we broke up, but I was jealous of the fact that she got to hang out with him and in one case; him and Eric Ripert when they did the Good Vs Evil Tour. You talked about him walking back at times. I feel like that is a real important aspect of his life. He made peace with Emeril Lagasse and even Rachel Rae who he said sent him a fruit basket after he said something nasty about her. I mean how shitty can you be towards someone who sends you a fruit basket?
M: Right? A funny story—a friend and former co-worker of mine went to see him at a signing once, could barely contain his excitement leading up to the event and could hardly speak when he met him—this is a burly, bad-ass chef-type, mind you—but he was intent on getting Bourdain to sign his body so he could get it tattooed. Tony refused, saying something like, "Don't be ridiculous, man. I can't let you do that to yourself." Ultimately, that story is so much cooler than any tattoo could ever be.
J: His ability to connect with people seemed magical to me. But I also know that it takes an incredible amount of energy and for me at least even having a simple conversation with someone can floor me for hours. He did it constantly; travel, tv shows, web based shows, writing, advocating, feuding…where on the clock did he ever rest? There is a part of me that says his internal clock just ran out and it was time to go. I've had friends and a cousin who killed themselves and for at least one of them, there is a certain amount of anger hovering around in there at him but with Tony; I don't feel angry, just really profoundly sad.
M:I miss him so much already. I'm heartbroken. In so many ways, it's easy to see his suicide as demoralizing—for cooks, for anyone with depression or addiction issues, for epicureans and bon vivants the world over, and for the little guys everywhere—but it should not be that way.
J: For sure, he gave so much.  He is the epitome of "Give more than you take".
M: The positive difference he's made in the world far outweighs his death, even, I believe, outweighs his own sadness. We are all blessed to have had him, and his work will endure. His legend status was cemented awhile back. This does nothing to change that. The man is a hero. A perfect American, and an aspirational leader concerned only with a world where everyone can live and eat and love. He was, like anything real, dichotomous—a beauty and a failure. He is the ultimate guttural intellectual, but his legacy will always be about unity. About bringing disparate people and disparate ideas together in a way that's irrefutably positive. Even in his death we're forced to examine things we don't like in a way that will ultimately be enriching. What other kind of life would we have wanted him to have? Anthony Bourdain led a perfect life and we have to deal with that.
J: You sent me the perfect text the other day; Uncle Tony would want us to deal.
Mat and I and others continue to have conversations about Bourdain and his impact and the heartbreak is never going away but it will probably get softer over time. Tony was a big music fan, especially New York late 70's era punk rock. He dedicated one of his books to the Ramones.
This next song is for you Tony, safe travels and we hope its quiet for you now.