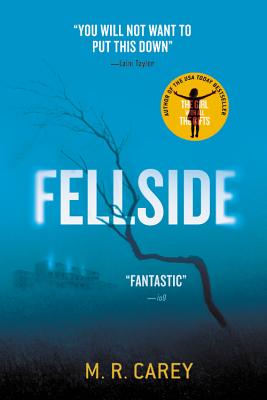 As you are locked into an eternity of solitary confinement, the prison guards stare sidelong with unchecked revulsion. Your days bleed into your nights as your dreams become indistinguishable from your waking purgatory. From this moment forward, you will have nothing to drown out the strychnine silence of your hollow thoughts but the protest of your keening death howls and the well-thumbed copy of M.R. Carey's Fellside left behind by a previous occupant along with an ominous splatter stain. So rattle your chains and pipe madly on your state-issue harmonica as you drag your mug across the bars of your cell and ask pointlessly what you could have done to deserve being sealed inside The Nightmare Factory.
Fellside Maximum Security Prison is a place nobody deserves to be. The warden is smugly oblivious, the guards are corrupt, shanks and garrotes litter the cells, the violence is orchestrated from within the walls by a malevolently omnipotent narcotics kingpin, and the food is kind of bland. Nevertheless, in M.R. Carey's symphony of caged heat Fellside, this is the world that Jess Moulson – junkie, burn victim, dream warrior – is dropped into following a dummy trial and hasty conviction for child murder and arson. As it turns out, though, sometimes it takes the worst environment to bring out the best qualities in people, and sometimes those people are vicious murderers, and sometimes their best qualities are latent somnokinesis and flesh-ripping revenge.
Gang up with the Nightmare Factory Book Club on Tuesday July 18th at 7:00 p.m. in the cafe at BookPeople to share your stories from the inside and discuss M.R. Carey's edge-of-your-seat, paranormal, penitentiary thriller Fellside. Devotees will remember M.R. Carey's previous Nightmare Factory favorite The Girl With All the Gifts and true supplicants will no doubt have devoured his Hugo-nominated series The Unwritten, so the debate around our table is sure to get savory. The Nightmare Factory meets on the third Tuesday of every month to investigate horror fiction of all persuasions. From "ax murder" to "zombie apocalypse", we cover the spectrum, so swing by BookPeople this Tuesday to talk Fellside, and, remember, in the Nightmare Factory Book Club, snitches get witches.
– Steve(n) W.