By Deborah Tobola:
At the age of forty-five, Deborah Tobola returns to her birthplace, San Luis Obispo, to work in the very prison her father worked in when he was a student at Cal Poly. But she's not wearing a uniform as he did; she's there to teach creative writing and manage the prison's arts program—a dream job. Alternating between tales of creating original theatre in a men's prison and her own story, Deborah Tobola's Hummingbird in Underworld takes the reader on an unforgettable journey, affirming the power of art and the strength of the human spirit. Join us Sunday, August 25 at 5PM for this frank, funny, and fascinating literary journey. And get your book signed by Tobola.
By Laura Lippman:
The revered New York Times bestselling author returns with a novel set in 1960s Baltimore that combines modern psychological insights with elements of classic noir, about a middle-aged housewife turned aspiring reporter who pursues the murder of a forgotten young woman. Meike said "The structure of this book is just brilliant. [Lippman tells] the story from alternating viewpoints of different characters—some are the central characters, others are "bit players" who appear only briefly. For me the pacing was lightning quick with extraordinary detail."
By J. Ryan Stradal:
In this novel of family, Midwestern values, hard work, fate and the secrets of making a world-class beer, from the bestselling author of Kitchens of the Great Midwest, a family is split when their father leaves their shared inheritance entirely to Helen, his younger daughter. Despite baking award-winning pies at the local nursing home, her older sister, Edith, struggles to make what most people would call a living. So she can't help wondering what her life would have been like with even a portion of the farm money her sister kept for herself. This book showcases a cast of lovable, funny, quintessentially American characters eager to make their mark in a world that's often stacked against them. In this deeply affecting family saga, resolution can take generations, but when it finally comes, we're surprised, moved, and delighted.
By David Baldacci:
It's 1949. When war veteran Aloysius Archer is released from Carderock Prison, he is sent to Poca City on parole with a short list of do's and a much longer list of don'ts: do report regularly to his parole officer, don't go to bars, certainly don't drink alcohol, do get a job–and don't ever associate with loose women. Don't miss the #1 New York Times bestselling author David Baldacci who introduces an unforgettable new character: Archer, a straight-talking former World War II soldier fresh out of prison for a crime he didn't commit.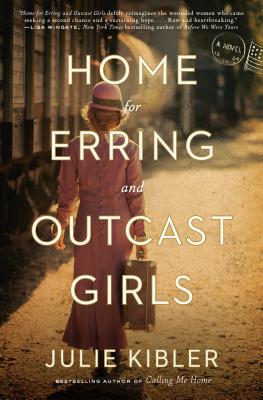 Home for Erring and Outcast Girls
By Julie Kibler:
In turn-of-the-twentieth-century Texas, "fallen" women—those whose birth, circumstances, or personal tragedies have resigned them to the dangerous poverty of the streets—have one hope: the Berachah Home for the Redemption and Protection of Erring Girls. Built in 1903 in the dusty, tumbleweed outpost of Arlington, the progressive home for cast-out women was the first of its kind to offer faith, training, and rehabilitation to women without forcibly separating them from their children. It is here that Lizzie Bates, abused and drug-addled with a young daughter, and Mattie McBride, jilted by the married man who fathered her ailing son, meet and form an unbreakable friendship that will see them through unbearable loss, heartbreak, difficult choices, and ultimately, diverging paths.
By Silvia Moreno-Garcia:
The Mayan God of Death sends a young woman on a harrowing, life-changing journey in this dark fairy tale inspired by Mexican folklore. The Jazz Age is in full swing, but Casiopea Tun is too busy cleaning the floors of her wealthy grandfather's house to listen to any fast tunes. Nevertheless, she dreams of a life far from her dusty, small town in southern Mexico. A life she can call her own. Mixing the excitement of the Roaring Twenties with Prehispanic mythology, Gods of Jade and Shadow is a vivid, wildly imaginative historical fantasy you won't want to miss out on. Come grab a copy on our shelves now.
By George Takei:
A stunning graphic memoir recounting actor/author/activist George Takei's childhood imprisoned within American concentration camps during World War II. Experience the forces that shaped an American icon—and America itself—in this gripping tale of courage, country, loyalty, and love. What does it mean to be American? Who gets to decide? When the world is against you, what can one person do? To answer these questions, George Takei joins co-writers Justin Eisinger & Steven Scott and artist Harmony Becker for the journey of a lifetime.