Some thoughts on book covers, YA tropes, and trends straight from our Teen Press Corps, reported by our Kids buyer Meghan G. This blog post was originally posted in Publisher's Weekly. 
---
Last week I blogged about what some of our local teens are reading, but I also like to check in with our teens toward the beginning of the year to see what they're looking for, what they're sick of, and what they wish they could tell publishers. So what's on their minds? Well, as a group they definitely don't love covers with real people on them these days, are tired of tropes and predictable plot lines, and (most of them) are enjoying the YA horror trend, as long as it doesn't get too gory. Take a look at what they're loving (and hating) below, and check in with them throughout the year on their blog or come into the store and peruse the book display they curate all year long.
What do you prefer? Series, duology, or standalone? How many books is too many?
CONSENSUS: Series, within reason:
"Shorter series. I often like duologies as long as the second book can hold its own up against the first. For series, more than six is definitely a NO." –Aurora
"Trilogies work. They offer enough room for authors to resolve plot holes in their work, and it's not so long that the writing gets stale." –Gustavo
"I prefer trilogies, but there can be exceptions like Harry Potter. Duologies are fine, but they often feel like one big book." –Ivy
COUNTERPOINT: "Standalones are great. It's hard to remember the first book when the sequel comes out!"—Xander
What 10 trends or tropes are you SO tired of?
Love triangles
Terminally ill main characters
Instant love or best friends
Emotionless guys
The mean girl / enemy at school
Popularity tropes (it honestly doesn't exist in the same way anymore)
"Bad Boy" characters
Teens not stressing about college or never doing homework and still getting good grades. Also teens with no extracurricular commitments.
Not talking to adults about serious issues
Titles that are like: The __ __ of __ __
COUNTERPOINT: "I'm SO tired of nothing. I read the books I want to read. I feel like most "trends" in YA are positive things." –Ivy
What do you want to see more of this year?
Books that break the mold and subvert tropes associated with their genres
Coming-of-age stories, especially comedies
Latinx fantasy
Books about Native Americans written by Native Americans that aren't just non-fiction
Books with disabled heroes
Muslim representation on all parts of the spectrum
More YA graphic novels this year. And every year.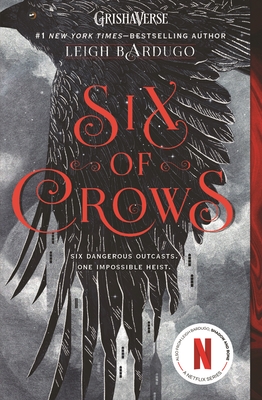 FINGERS CROSSED: "The third Six of Crows novel. I know it's real. I know Leigh Bardugo is hiding it." –Sofia
What do you personally want to see less of this year?
"Dystopian novels because they are always too cliché, too similar to others, or scientifically impossible." –Aurora
"The guy always falling for the girl. Guys in books get rejections all the time, but sometimes girls get their hearts broken too, rather than getting a perfect romantic resolution."–Sofia
"Fewer chances for people who have been called out for doing sketchy stuff to get published."–Xander
"Fewer retellings, more original stories." –Ivy
"In high fantasies where the guy or girl is abusive, but they reveal those actions were because they liked the other person." – Sumayyah
How does what you see in the world right now shape what you want to read?
"When I'm too upset or mad, I need something happy to pick me up. When I'm moderately happy or upset, I love reading things that make me think and feel the full range of emotions." – Aurora
"Everyone's making metaphors between real-world events and morality in fiction, which is cool. It's nice to have relevant lessons nowadays." –Gustavo
"Everything is so boring that I want to read thrillers so I can feel alive." – Julia
"I like books that tackle present issues." –Xander
"I want to read about people's stories and their truth." –Sumayyah
"I want to see books that actually reflect the teenagers of today, but not in clichéd ways. I like honest voices that aren't overdramatic." –Ivy
"I want more magical realism. I want a book to show me wonder and magic in the real world that I'm stuck living in." –Colleen
What do you love / hate about covers these days? 
Hate: real people on covers. Not only does it break your own image of the characters, but it's always so cliché.
Love: The more cinematic the better, like the Percy Jackson covers.
Love: Pretty covers with pretty colors.
Love: Simple covers with interesting art, bright colors, and clever references to the book.
Favorite recent covers: Darius the Great Is Not Okay, What If It's Us, King of Scars
SERIOUSLY, PUBLISHERS: "Don't put real people on covers. Ever. Please." –Colleen
What do you think about the YA horror trend?
"I love when YA incorporates more horror elements to create darker undertones with more manipulation, death, etc. But I'm not loving books solely focused on horror, gore, and death." –Aurora
"It's nice to have our own horror genre, but when it gets mixed with romance, it spoils the mood." –Gustavo
"Yes, but not to the point where authors should write books just to go along with the trend." –Ivy
"Horror is not my favorite genre, and the romances in them are subpar because they shift focus away from the scariness." –Sumayyah
"Give (Austin author) Chandler Baker a raise!" –Sofia
COUNTERPOINT: "I'm not a fan, personally." –Colleen
What books are on your nightstands right now?
FINAL THOUGHT: "Dude, I wish I had a nightstand. My phone charges on the floor right now." –Sofia
-Meghan G.