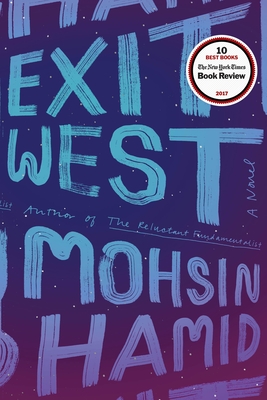 Intro by Jason 
Mohsin Hamad's Exit West came out in March 2017. Since then, it has had a significant impact on the world of fiction. Here at BookPeople, booksellers were so excited about the book that there was a lot of dodging and weaving for the few available advanced reader's copies and a spirited contest on who could make the best recommended card for the book when it officially came out (I won).  Okay- I did not win; as there was not really a contest…but…
…suffice it to say, the booksellers in the store here care about this book. A lot.
Right around the time that the book came out, we hired a new bookseller, Razieh Araghi. Razieh was born in Tabriz, Iran, 1988. She received her B.A. degree in English Literature back in her home country in 2010. After finishing school, she started practicing art and painting professionally. In 2015, she moved to the United States with her husband, embarking on a journey of full of new experiences. She is now a graduate student, studying English Literature, working on a comparative research about American and Iranian women's rights in the 20th century. Now, when she is not studying for her thesis, she likes reading books about history and women/gender studies. She loves spending a great amount of her time helping other people (refugees) learn English as a foreign language.  We are extremely lucky to have Razieh working in the store here with us.
In the spirit of Exit West, Razieh wrote this very personal piece about her immigration experience:
Immigration. It was the word I had only read about in textbooks at school. I never knew that one day I would experience it in my own life. Even a year before moving to the states, although I was trying myself to get ready for the adventure, I didn't really know what immigration would be like. After I got my visa at US embassy, the idea dawned upon me that "Hey, you are leaving your family, with whom you have spent 26 years. You are leaving your country, your city for the first time ever in your life."
I was born in Tabriz, into a large family of seven. All my life I was surrounded by sisters and brothers. Some of my friends left the city when they started their college life, but I stayed in Tabriz and went to Tabriz State University 10 minutes away from our home. In all those 26 years of life, I never traveled on my own, I always stuck with my family. Therefore, the idea of leaving them one day and moving to a land far away from them was impossible to imagine. However, you never know what life will bring you.
Farewells are always hard. When I leave someone I like to say "See you later" rather than "bye". The day came when I had to say goodbye to my loved ones: my mother, my father and my siblings. I packed my baggage. Till the last moment, I did my best not to cry. I was repeating over and over "Hey, I will be back next year. I will be here with you all my summer." Deep down in my heart, I knew that I was telling it only to console my mother, who was way too sad to see me leave.
Walls. Have you ever missed walls? I did. When leaving the house that I lived in for 15 years of my life, I knew I was going to miss it a lot. The day I said farewell to my family was the darkest and saddest day of my life. I cried so hard that I fell sick for weeks. I can still remember it vividly. Even today after two years of living in United States I still think about whether I made the right decision to leave them. I think this gnawing thought will haunt me for all of my life.
United States, the land of opportunities, the land of immigrants. For the first weeks, I was scared to go out, because I didn't know anything about my environment. Although I started learning English in high school, I had trouble understanding people speaking to me. I was overwhelmed by the rush of strong feelings of homesickness, sadness, fear, and worry. I started graduate school, that helped take me out of my safety zone and gave me more chances to get to know people. Other than my husband, I had no one to talk to, no friends or family members. Most of the days I was crying and begging my husband to go back to Iran, because I was feeling so lonely. They say it takes you about six months to get used to the new environment and get through the cultural shocks you face. That's absolutely true; for some people it might take longer.
The day came when my husband had to leave for an important conference in Japan. That day I felt absolutely helpless. It was my first time being all alone, not knowing how to drive a car, not knowing anyone to reach out to for help. After the first few months, I realized that my body was showing reactions to the excessive amount of stress that I went through moving to the US. My hair started to fall drastically, and several other health problems that I had to deal with. But, I survived.
When moving to another country, you always think generally about how to talk to people, how to get a job, how to be successful in your new home. You don't think about small things that might be trouble. Like food, for example. I tried so many types of cheese till I found the one that I could eat. I cannot eat spicy food, but, everywhere I went they had spicy food. Or visiting a doctor. Before visiting a doctor, I had to surf the internet for hours to find the terms or words to describe my problem or symptoms. These all sound trivial, but, they do matter a lot.
However, with all the difficulties I was going through, I decided not to confine myself to home. I learned to drive in a month, because I wanted to be independent. I improved my grades from F to B and eventually to A on the literary essays at school. I thought of helping people who were like me, an immigrant, or refugees. I started volunteering at Refugee Service of Texas. They had sewing classes for ladies, and needed translators. That day also was a turning point in my life, a happy, inspirational turning point. I saw many girls at my age who didn't know how to speak English. I felt sad to see people who are intelligent and talented but excluded from the society only because they cannot speak the language. That class inspired me to help refugees learn English. I started volunteering at ESL classes after that experience.
A year passed. A year full of ups and downs since I moved to the United States. It was time to go back and reunite with my family. I cannot explain the happiness I was feeling when I hugged them tight at the airport again. I felt revived.
It has been two years since I moved to the United States. The experience of immigration is beyond hard to explain in words. Now, I know some people, I have made friends. And I know I am on a right path to be successful and help others to enjoy success as well.