We here at BookPeople continue to be so inspired by Mohsin Hamid's Exit West. Here's what a few of our booksellers are saying about this mash up of science fiction, immigration drama, and of course, a love story: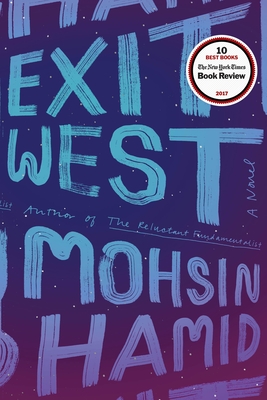 Gregory: "one of the defining works of the 21st Century. Hamid's work proves building walls won't prevent globalization. This book should be taught in schools and handed out in the streets: a compassionate, romantic, encompassing work about the current state of the world."
Lojo:  "…we too will all be lost by those who come after us and love us, and loss unites humanity, unites every human being, the temporary nature of our being-ness, and our shared sorrow, the heartache we each carry and yet too often refuse to acknowledge in one another… BRILLIANT. BEAUTIFUL. MOVING. IMPORTANT."
We were so inspired, in fact, that we took that inspiration and created an opportunity to support the folks at Caritas of Austin in support their mission of providing a service continuum for those experiencing poverty. For each copy of Exit West sold, a portion of the proceeds goes to Caritas of Austin.
Caritas of Austin is an organization that provides assistance to refugees, veterans, women and children. In an effort to learn more, Lindsey Dickson of Caritas of Austin was kind enough to answer a few questions about their experience helping immigrants to settle in the Austin area.
BP: How many refugees do you help settle each year?
LD: In 2016, we resettled 631 refugees from 16 different countries. That number has been fairly consistent in recent years, but with so many changes this year, it's difficult to guess where numbers will end up in 2017. They will definitely decrease due to the President's decision to decrease overall arrivals from 110,000 to 50,000.
BP: What are your biggest challenges?
LD: Currently, the uncertainty at the federal government level is very challenging for both our staff and clients. Program funding and new arrival information seem to be changing on an almost weekly basis. With regard to our actual work with refugees, the main challenges are the extremely limited time refugees have to acculturate and gain self-sufficiency. Limited financial assistance for refugees lasts only about six months. In that time, new resettled refugees must begin to learn English, attend numerous health and community appointments, get children enrolled in school, and gain employment to be able to cover basic needs – all in a brand new culture!
BP: What can a family expect from y'all coming into Austin?
LD: Caritas of Austin staff members are the first people refugees meet when they arrive at the airport. They take families to apartments we have set up for them with a hot meal to welcome them home. From cultural orientation classes to meetings with case managers, refugees have numerous meetings with the Caritas of Austin team in those first weeks after arrival. The refugees I speak with say that the Caritas of Austin staff will always be near to their hearts because they were the first people to support them when they arrived with nothing and knowing no one. Our job is to support them in every aspect of life during their first months here but to always be focused on teaching them the skills and information needed to thrive when our work ends.
BP: How does the political climate play into what you do? Has the current administration impacted how you operate?
LD: The current political climate is making it very difficult for our organization and others to plan longer-term because of the uncertainty around funding and new refugee arrivals. Caritas of Austin has been serving refugees for over 40 years, so while this has been a difficult one, our staff has remained focused on providing the best services we possibly can. On the positive side, the current environment has brought unprecedented levels of awareness and interest in supporting refugees. We have been so encouraged to see people coming forward wanting to volunteer with refugees and host community events to benefit our services.
BP: Y'all do a lot for the homeless population as well as refugees, what else can we do to help?
LD: While any people don't see commonality between those experiencing homelessness and refugees, we see them both as groups who lack a stable place to call home. To us, refugees are simply the internationally homeless. For all people we serve, we work to build well being by providing people with a safe home, healthy food, job assistance, and the skills and tools needed to reach their full potential. There are many ways to help: volunteer, host a community event with proceeds benefiting our work, provide items from our Wish List, offer housing units to be rented by the people we serve, or invite us to come speak to the local groups you're a part of so we can share our work with more people.
So far at BookPeople, we have sold about 250 copies of the book so far which means we still have a lot more duckets to give to Caritas. Have you read Exit West yet? No? Come in and get a copy! Then come in and get another copy and give it to someone else.
This is an important book for the times we live in; help us make a difference.