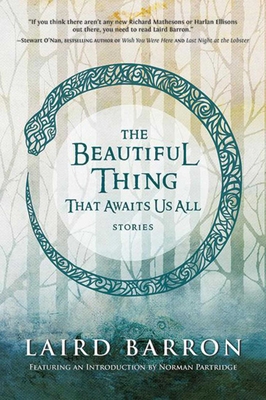 The Nightmare Factory Book Club has long prided itself on presenting for your consideration only the most eloquent and refined morsels of literary esoterica, and it is in this spirit that, this month, we offer our humblest apologies. It would seem that, despite our noblest efforts to provide the silkiest, distinguished wheat to our supplicants, somehow a book made of pure, unadulterated chaff made it to our table. So tonight, everyone pour themselves a stiff drink, unsheathe your steak knives, slather on the ketchup, and get ready to gnaw on a bloody chunk of Laird Barron with the Nightmare Factory.
The Beautiful Thing That Awaits Us All, Barron's third collection of cosmic noir, weird fantasy, and hard-boiled gristle, captures everything that makes his a unique voice in literary horror. Ancient devils, haunted lakes, stream-of-consciousness murder, blood gnomes, and not-so-subtle take-downs of pretentious horror icons populate this tome of terrifying tales. Join the Nightmare Factory Book Club tonight at 7:00 p.m. in the cafe at BookPeople to discuss the effluent, entrails, and errata that lubricate the pistons of Laird Barron's wondrous, horrifying mind.
The Nightmare Factory meets on the third Tuesday of every month to rummage through the skeleton-y closets of forgotten, frightful fiction. Come by BookPeople tonight at 7:00 to examine the nooks and crannies of The Beautiful Thing That Awaits Us All by the mad, one-eyed Alaskan Laird Barron. No matter what happens, after tonight, we're all going to need a drink.
– Steve(n) W.