Two books down, three to go in our weekly tour of the National Book Awards fiction shortlist! This week I curled up with Paulette Jiles' delightful historical novel News of the World. Laugh and cry with me as you read about reading about an old man and a little girl whose deep bond is forged on an arduous covered-wagon journey through a Texas shaken to near anarchy in the aftermath of the Civil War. BookPeople is offering signed, personalized copies of the book. Order now! 
In case you've been LIVING UNDER A ROCK, last week I reviewed The Underground Railroad by Colson Whitehead here. Stay tuned in the coming weeks as I discuss The Throwback Special, The Association of Small Bombs, and Another Brooklyn.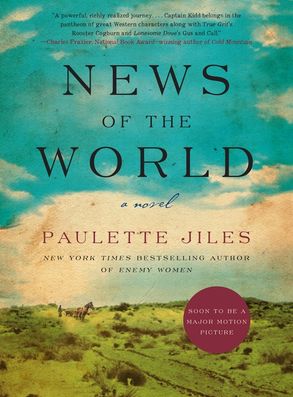 News of the World revisits a setting that Jiles fans will recognize from her 2009 novel The Color of Lightning, which followed former Kentucky slave Britt Johnson in his attempts to rescue his family, captured by members of the Kiowa tribe in a raid. Now, Britt has been entrusted by the Indian Agent with the care of another surrendered Kiowa captive, ten-year-old Johanna Leonberger, whose surviving kin have offered a fifty-dollar gold piece for her safe conveyance to their farm outside San Antonio. But the journey will involve three weeks over highly unstable terrain, and the coin is not nearly commensurate to the risk Britt runs in being seen transporting a white child. Not to mention the risk from the child herself—Johanna is half-wild, speaks no English, and is determined to return to her tribe, the only family she remembers.
Luckily, Britt manages to responsibly unload his charge on the aged but strong shoulders of Captain Jefferson Kyle Kidd. A widower and veteran of two wars, Captain Kidd is anything but excited for the task, although he is not a man to shirk a perceived duty. But with two grown daughters, he had thought he was done herding children. He had looked forward to whiling away the remainder of his days in solitary travel across North Texas, stopping in small towns to conduct readings from various newspapers to appreciative, paying audiences. He is world-weary, happy to watch from the sidelines, without the heartache and exertion of direct involvement. He has run messages his whole life: first as a member of the message corps in the War of 1812, delivering orders, maps, reports, and other information from unit to unit; then as the owner of a print shop for most of his civilian career; now as the main source of news from far-flung places for isolated frontier families. He has always taken pride in being able to deliver his news: "He had come to think that what people needed, at bottom, was not only information but tales of the remote, the mysterious, dressed up as hard information … Then the listeners would for a small space of time drift away into a healing place like curative waters." He little suspects that with Johanna, he is about to run his most inscrutable, mysterious, and ultimately healing message yet.
Like Captain Kidd's own readings, News of the World is an informative escape. Jiles' language thoroughly transports and immerses readers in the harsh beauties of Texas landscapes and settlements circa 1870. Jiles is also an accomplished poet and it shows. After the Captain and Johanna, the book's third most compelling character is local nature. The creosote bushes, "still as bones," cirrus "like a frosted sandstorm," the limbs of the short, contorted oaks of the Red River valley "all so black with rain." A down feather from a chicken killed by Johanna drifts "down in the moonlight like a falling minute angel" onto the Captain's coat. I couldn't identify a Texas plant if it poisoned me, and I'm vegan, but after a few minutes steeped in this prose I experienced a strong urge to be barefoot under the open sky, feasting on fried bacon and black coffee and a corn dodger (whatever that is).
Johanna's character is somewhat in the vein of El from Stranger Things. Besides the obvious affinity of age and gender, Johanna is also the skinny, unwashed product of an alien culture, deeply traumatized, quiet, with an unnerving gaze. When Captain Kidd first sees her, she is described as having "no more expression than an egg." Memorably, he tells Britt, "The child seems artificial as well as malign." Whatever she is, it is not wise to underestimate her. Johanna—and the journey to deliver her to her European family—proves full of surprises. If her presence on the road attracts danger, she is able to return it in kind, with swift violence as interest. You will want to stick with this odd duo, through river crossings, runaway attempts, shootouts. In the end, they are hard to leave.