There is a thought so insidious it cannot be exorcised. It is a nagging mosquito deep inside your ear that asks endlessly, forever needling at your eardrums with its barbed insinuation, "Are you safe inside your own head?". The Nightmare Factory Book Club is here to answer that prickling discomfort definitively to the contrary. You have concrete grounds for psychological alarm. Your mental defenses are far from impenetrable. The Nightmare Factory Book Club knows your mind is not your own because we were the ones that first planted that seed of disquiet in your skull, and, if we can get in here, who knows what horrors we may have brought along with us?
This Tuesday July 19th, take a trip with us inside your psyche to mull over the contents of A Head Full of Ghosts by Paul Tremblay and, in so doing, perhaps we can tame some of the demons that haunt us all. Perhaps, once tamed, these demons will do our bidding.
A Head Full of Ghosts is a postmodern turn on the time-honored rite of exorcism in contemporary horror. As the story unfolds, we are invited along on a meta-exploration of the plausibility of the narrative as presented. The fallibility of memory is pitted against the cynicism of the internet, which is obscured by the unreliability of storytelling with an agenda, leaving the onus on the reader to punch through the screams to the truth. All we know is that something happened. Something happened, and it is not alright.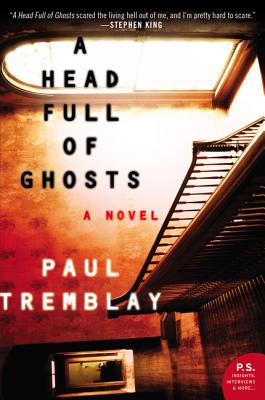 A crumbling family beset by financial troubles becomes the somewhat reluctant subject of a documentary about demonic possession. Throughout the filming, their dynamic is threatened again and again by the artificiality of everyday life under surveillance, the fragmenting mental health of all involved, and continuous, high-octane, supernatural terror. All that is certain by the time the camera crew packs up their gear to retreat is that someone, if only the reader, has a head full of ghosts.
Spider-walk your way down to BookPeople on July 19th at 7:00 p.m. to discuss Paul Tremblay's A Head Full of Ghosts with the Nightmare Factory. Share a bowl of pea soup with some like-minded souls as we blaspheme our way through another head-spinning discourse. The Nightmare Factory Book Club meets on the third Tuesday of every month to wade through all the ghouls and creepies that populate the tradition of horror literature. Help us cast the devil out this Tuesday in the sanctified cafe at BookPeople. Just don't look too closely at what we're doing with that crucifix.
– Steve(n) W.