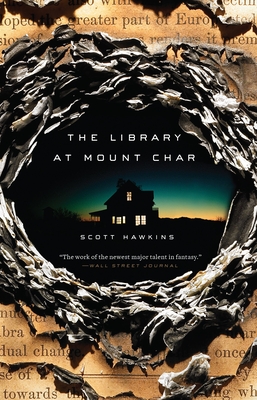 Once a month, an unfathomably powerful conspiracy of sorcerers meets at BookPeople to mete out the universe's continued destiny. They bring with them the secrets of their realms — whispered half-truths from behind the stars, beyond the grave, and the bottoms of countless bottles of Mad Dog 20/20. These existentially complex beings cast their swirling essences onto our simple, three-dimensional reality on the third Tuesday of every month to embody the Nightmare Factory Book Club, a despicable cabal that celebrates the grotesque and macabre in modern horror literature. Join the pagan pageantry on June 21st at 7 p.m. in the cafe at BookPeople to dismantle space-time so that it may be rebuilt in our image and, if there's time, discuss The Library at Mount Char by Scott Hawkins.
This ruthless, urban fantasy set on a colossal scale pits the savage disregard of the universe against the small, fallible, and ultimately noble morality of the human mind. Larger than life and death, bigger than all the religions, The Library at Mount Char deals in chaos and cruelty without forgetting our tiny but not insignificant role in the infinite. Twelve mortal children kidnapped from suburbia and trained to be gods are exiled from their Library — the physical instantiation of the nexus of all abstract knowledge — when the All-father abdicates, leaving unlimited resources, all the world's power, and an impossible mystery in the hands of a dozen developmentally arrested superheroes.
Scott Hawkins harnesses the inconceivable cosmology of H.P. Lovecraft and the casual humanity of Neil Gaiman and projects it through Steven Seagal's relentless pursuit of justice to capture a bizarre adventure that is simultaneously high-concept and accessible in The Library at Mount Char. This book has earned its call number in the great Dewey Decimal Catalog in the sky.
The Nightmare Factory Book Club meets on the third Tuesday of every month to discuss horror and fantastical fiction wherever it is found. Join us on Tuesday June 21st at 7 p.m. in the cafe at BookPeople to talk about The Library at Mount Char by Scott Hawkins. All you need to bring is your sense of humor and your point of view. We'll provide the screams free of charge.
-Steve(n) W.