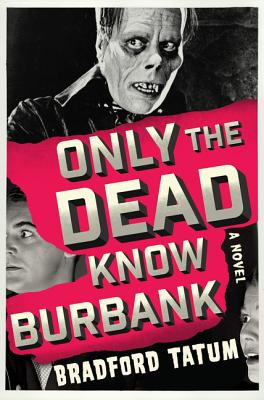 Quiet on the set! The Nightmare Factory is about to start shooting, and tonight we're going to make you a star. Join us at 7:00 p.m. at BookPeople for a lively discussion of Bradford Tatum's open casket look at classic movie monsters Only the Dead Know Burbank. It's bound to be a scare, so bring a date, grab some popcorn, and get ready for a summer blockbuster with the hottest book club in town.
Only the Dead Know Burbank captures the drudgery and disappointment that goes hand in hand with the glitz and glamour of Golden Age Hollywood. Narrated from the perspective of an immortal, undead child, Bradford Tatum's literary death letter to the film industry prods the raw guts and goo that hold the legendary werewolves and Frankensteins of the Universal lot together. This sophisticated and unflinching exhumation of the early Twentieth Century reveals the glistening innards of Hollywood Babylon.
The Nightmare Factory Book Club meets on the third Tuesday of every month at 7:00 p.m. in the cafe of BookPeople to discuss the greasy underbelly of modern literature. Join us tonight to share your vision of horror fiction as we pry open Bradford Tatum's cinematic opus Only the Dead Know Burbank. This book is entombed comfortably in the "B Movie" vaults, so the surgeon general advises that the faint of heart sign a waiver before participating in our discussion.
– Steve(n) W.