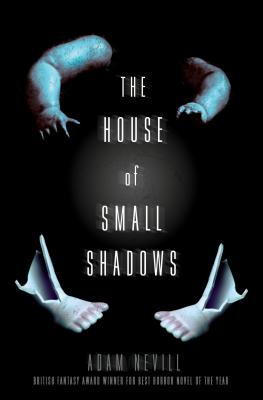 Statisticians tell us that, in any group of people, roughly one-third of their members are secretly cloth-and-porcelain simulacra assembled from scraps by the Mad Puppeteer. Look to your left. Now, look to your right. If there were no marionette strings ascending to the heavens from the arms and legs of your neighbors, odds are you're the one with the hand shoved up into your chest cavity. The Nightmare Factory Book Club, however, is here to disprove those eggheads with their ratios and their coefficients. Why stop at 33%? We're all of us 100% dolls-brought-to-life and proud of it. So, if you yourself are a puppet, or, if you just want to hang with some patchwork abominations, grab your copy of House of Small Shadows by Adam Nevill and head down to BookPeople on Tuesday February 20th at 7:00 p.m. to have a tea party at the coolest dollhouse in town.
In House of Small Shadows, the inimitable Adam Nevill pulls his characters slowly, facedown through the cosmic embers, disclosing just enough about the universe they inhabit to heighten the dread exponentially with each horrible, new revelation. This is the story, told in half-memories and flashbacks, of a troubled girl becoming a haunted woman. One foot in our reality and the other left to dangle over the abyss, she is fatalistically drawn toward a putrid mansion and its chittering occupants. Dragging her feet inexorably through the threshold of her terrible destiny, she must acknowledge the beauty and fascination of the rotten. Riffing on genre tropes, all the while imploding expectations in on themselves and wrenching the narrative back through itself and into unknown territory, the world that Adam Nevill creates in House of Small Shadows is terrifying, wholly original, and eerily familiar.
The Nightmare Factory Book Club meets on the third Tuesday of every month at 7:00 p.m. in the cafe at BookPeople to discuss horror fiction of every era and literary inclination. Join us on February 20th to gnash our porcelain teeth over House of Small Shadows by Adam Nevill, all while our ventriloquist is drinking a glass of water. Remember, when you're running with the Nightmare Factory, everyone is a dummy.
– Steve(n) W.