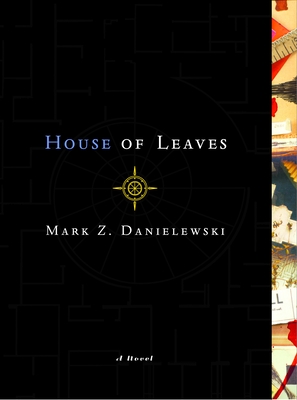 The strangest thing happened this month at the Nightmare Factory clubhouse. Joe was reaching for our copy of House of Leaves to read us all a story before lights out when he accidentally bumped the bedside table and knocked it behind the giant bunk bed we all share.  When Jerome crawled back there to get it, he didn't just find the book, but he also found a secret doorway that leads into a vast, abyssal negative space that, according to Earth physics, shouldn't even exist.  We all told him not to go in there, but, when the old J-Man gets an idea in his head, there's no stopping him.  Anyway, that was a couple weeks ago.  Now there's this weird bleeding coming from the ceiling fan, and sometimes the mini-fridge screams, but, apart from that, there's been no sign of the guy.  We all figure he'll be back from the inky black other-there by Tuesday October 18th at 7 p.m.  He wouldn't dare miss our discussion of Mark Z. Danielewski's debut work of experimental horror House of Leaves.  That would just about kill him.
House of Leaves is an interwoven, multidimensional cavern system of deep, existential dread.  Follow the glittering trail of apocryphal books, falsified documentaries, and forged correspondence between nonexistent people until you've been in the oily inter-narrative so long you don't remember the last time you knew which way you were going.  Reading the book is an exercise in self-examination and a challenge to the conventional boundaries of the literary experience, so pack a flashlight and crawl under the covers with House of Leaves.  Just bring a snack and tether yourself to the bedpost to be safe.  There's no telling when, if ever, it will let you back up for air.
The Nightmare Factory Book Club meets on the third
Tuesday
of every month at
7 p.m.
in the cafe at BookPeople to explore the dark places lying between the covers of our favorite works of literary horror.  Join us this Tuesday October 18th to plum the depths of Mark Z. Danielewski's cult classic
House of Leaves
.  It never fails with these books.  No matter how shallow they seem on the outside, they're always much bigger from within.
– Steve(n) W.