The BookPeople Modern First Library Initiative: Pairing beloved picture books that will never go out of style along with other favorites that reflect the diverse, global society of the 21st century, we've set out to make building a thoughtful library for any child in your life easy.
Joining us this afternoon are three educators from Austin Independent School District: Claire Hagen-Alverado, AISD Administrative Supervisor of Language Arts; Nancy Valdez-Gainer, AISD Teacher, and Brennan Cruiser, AISD Teacher.
Starting the Conversation
Whether in the classroom, our homes, or community, reading culturally diverse books with kids builds empathy and expands a child's understanding of the world. This may include reading a book just for fun, but it also provides a spark for deeper thinking and conversation. It is through talking about difficult or different topics that we develop new perspectives. As teachers and parents, we find that even our youngest readers engage in rich conversations in response to diverse books, and they have great curiosity and passion about topics of fairness and justice.
Books help all of us make sense of the world, and they provide an anchor for discussing topics that might be hard or uncomfortable. This year Nancy Valdez-Gainer read Two White Rabbits by Jairo Buitrago with her 2nd graders in the Austin Independent School District. The book is about a father and daughter who are traveling from Central America to reach the United States. The beautiful and thought provoking illustrations and content sparked complicated conversations based on the kids questions and experiences. Many students had personal connections to the book, and the class grew as a community as they shared their stories.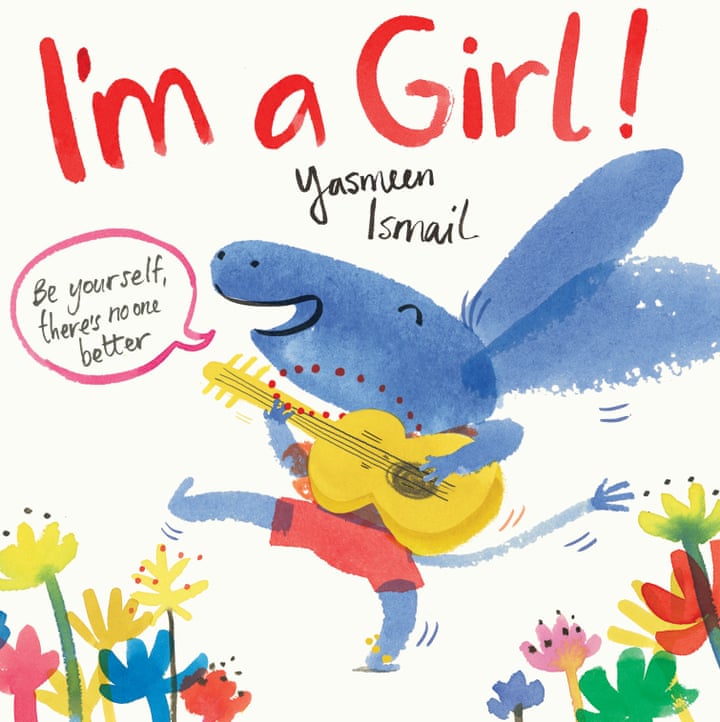 Parents and teachers can use books as a stimulus for talking with children about serious issues that are portrayed in children's literature. If we are sharing diverse texts, the conversations are much easier. There is no need to fumble around trying to bring up a topic because we have the book as an anchor/spark for the dialogue. For example, Yasmeen Ismail has a new book called I'm a Girl! In the story, the main character doesn't fit traditional gender stereotypes and people keep mistaking her for a boy. She keeps saying, "I'm a girl!" Brennan Cruser and Stacey Ross, Austin Independent School District teachers, placed this book in the hands of a few of their 2nd graders, which led to an amazing conversation about gender and provided a space for one of the students to push another to think beyond the traditional gender paradigm. This conversation grew naturally from the sharing of text in a way that the teachers could not have facilitated on their own. The literature provides an authentic point of entry for these conversations.
We've seen parents and teachers skip over the books that represent unique or complicated content, but we invite you to give these books a try with your kids. Ask open-ended questions such as, "What surprised you?" or "What did you notice?" to get kids talking. See where the conversation goes. See how your world view or that of your child grows.
Some of our resources include a collection of books with global social justice topics.
And here are few of our favorite books to read and discuss with kids:
My Princess Boy by Cheryl Kilodavis
Two White Rabbits by Jairo Buitrago
What Can you Do with a Paleta? Qué puedes hacer con una paleta? By Carmen Tafolla
That's Not Fair! ¡No es justo! By Carmen Tafolla and Sharyll Teneyuca
---
Claire Hagen Alvarado serves as the Language Arts Supervisor for Austin ISD. She taught at the elementary, middle, and high school levels and holds a master's degree in Language and Literacy Studies from the University of Texas. Claire supports the Austin ISD Literacy Plan, which includes a focus on time for independent reading with student choice of book selection and access to diverse, multicultural texts. @AISD_LangArts #AISDReads
Nancy Valdez-Gainer is a 2nd grade dual language teacher in Austin ISD who takes an activist orientation to her work with families and children. Nancy has been teaching for almost sixteen years in the same school district she attended as a child. Nancy fosters multilingual and multicultural classroom spaces where children can actively draw on their experiences as resources for learning.
Brennan Cruiser is currently a 2nd grade teacher in Austin ISD.  She has 15 years of teaching experience in both primary and intermediate classrooms.  She is a certified reading specialist and Master Reading Teacher.  She is an advocate for children's literature and is the co-creator of the blog Book Glitter, which reviews current picture books for use as mentor texts in the classroom.