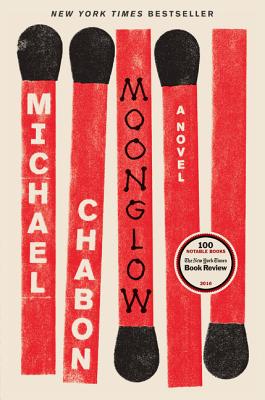 Rest easy, book lovers – new fiction and good times are coming soon to your favorite bookstore! Pulitzer-Prize winner Michael Chabon will be here on December 13th.
We finally have our hands on Michael Chabon's eagerly anticipated eighth novel, Moonglow – his first since 2012's Telegraph Avenue! In the grand tradition of epics like The Amazing Adventures of Kavalier & Clay and the aforementioned Telegraph Avenue, Moonglow is another Chabon-esque masterpiece that spans decades, crosses oceans, and reveals colorful pasts full of secrets and revelations.
Moonglow is a quasi-fictional memoir that follows the fictitious Chabon on a weeklong visit to his mother's house in Oakland, California, to spend time with his grandfather whose health is rapidly declining. It is in these final days, with the aid of heavy medication, that Chabon's grandfather, tongue loosened, reveals to him an entire life he's never known about.
Over the course of that week, Chabon discovers a whole new side to the man he felt he's never really known – a man who went to war in Europe and returned a changed man, was integral in the early conception of NASA, and who had an often turbulent romantic and work life. Moonglow zig-zags us across time from the war in France, prisons and junkyards in New York, retirement homes in Florida and the slums of South Philadelphia. Touching on subjects of love, war, Jewish identity, and the building of model rockets, Moonglow matches the scope and intensity of the modern masters and cements Chabon's place in the modern literary canon.
Based largely on real events that occurred in Chabon's life fresh off the publication of his debut novel, Mysteries of Pittsburgh, in 1989, this is the writer's most personal and intimate yet – destined to be ranked amongst the best of the year, decade even! This is the book we need in what's been an otherwise bonkers 2016!
Be sure to join us December 13th at 7 PM as we welcome Michael Chabon in-store to discuss all things Moonglow! Buy your copy online or in the store now to secure your place in the signing line. 
— review by Uriel Perez, bookseller